04/23/2018
IDF Soldiers Help Commemorate Yom Hazikaron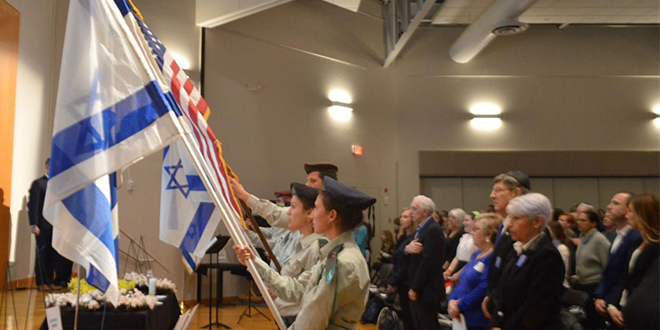 Reprinted with permission from Cleveland Jewish News.
by Amanda Koehn
Cleveland's Yom Hazikaron, or Israel's Memorial Day, honored Israel Defense Forces soldiers killed in the line of duty as well as civilian victims, during a solemn ceremony April 17 at the Mandel Jewish Community Center's Stonehill Auditorium in Beachwood.
During the Jewish Federation of Cleveland event, a delegation of IDF soldiers led a flag procession and Cleveland-area students and community leaders led various aspects of the ceremony that was attended by about 400 people.
A member of the IDF delegation, First Lt. Tair Hadar told the story of a soldier, Oren Noa, from her hometown in Northern Israel who was killed in service in 2014.
"He planned to serve his country in a meaningful position," Hadar said of the 22-year-old Noa who she said had wanted to be a combat fighter. He died in a military operation, Operation Protective Edge, in Gaza during a clash.
"Danger was at every step – so close you couldn't just feel it, you could touch it," she said of the deadly clash. "Even though it has been nearly four years, the pain of this loss has never eased."
Delegation leader Lt. Col. Shira Rodberg spoke about the significance of honoring those who died protecting the country still in the midst of ongoing crises.
"Our country was built against all odds, and ever since its establishment, our existence and the nation has not been secure," she said. "Many challenges still lie ahead of us, but I am confident we can overcome them."