01/25/2023
Israeli Expert Discusses Security During Training Seminar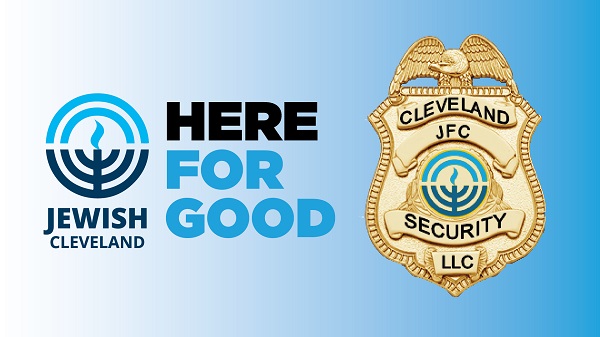 COURTNEY BYRNES | STAFF REPORTER
Article reprinted with permission from Cleveland Jewish News
The Jewish Federation of Cleveland and JFC Security, LLC hosted The Security Trustee training seminar Jan. 18 and Jan. 19 for synagogue leadership, schools, agencies, ushers and greeters, security officers and area law enforcement.
Jimmy L., with 36 years of security experience with the state of Israel, led the five sessions over the two days as 85 attendees learned how they can improve the protection of Jewish life and the Jewish way of life.
"It was nice to see that people took this seriously to learn from a premiere Israeli security expert that has helped protect Jewish communities worldwide," Jim Hartnett, director of community-wide security for the Federation, told the Cleveland Jewish News Jan. 20. He added that the community can benefit from hearing from the perspective of an outsider who has put forth lessons that have saved lives in communities around the world.
The presentation included topics such as, the threat and methods of the adversary, security principles, the profile of the security trustee, and training the trustee and maintaining qualifications. The presentation also touched on the different types of antisemitism and threat assessment to understand the threats, risks and vulnerabilities the community faces.
In his presentation, Jimmy L. included historical case studies in which Jewish institutions were targeted and what lessons can be learned from the community and security response to better protect against such cases and respond appropriately. One such example was the 2018 Tree of Life Synagogue shooting in the Pittsburgh suburb of Squirrel Hill as attendees watched excerpts of survivors sharing what they experienced in the documentary, "A Tree of Life: The Pittsburgh Synagogue Shooting."
Jimmy L. told the CJN Jan. 19 the main objectives of the sessions were to relay the importance of having a security trustee and to raise community awareness surrounding security risk assessment and response.
He said a security trustee is critical in maintaining the security of a facility and should be appointed and trained with a yearly refresher. He also shared the emergency procedures that are expected of a security trustee before, during and after an event in order for the trainees to have the tools to be aware and know how to react in different situations.
Jimmy L. said his slogan is "See something, do something," as opposed to "See something, say something" as the security trustee is responsible for taking immediate action before emergency responders can arrive on the scene.
"The title of the program was security trustee, but really everyone can be a security trustee, right?" Hartnett said. "It's having the ability to empower our community members to know that everyone has a role basically, and being able to report suspicious activity and also react if there is a problem, have a plan as to what to do if you get caught in a hostile situation."
Hartnett said security training like these are important because the more people trained in the community, the safer the community is and can leverage resources to assist first responders.
As important as it is to continue to train leaders and community members, Hartnett said the next generation needs to understand their role in safeguarding the Jewish community. The Federation is actively working on plans to encourage members of the Jewish community between the ages of 18 and 45 to attend security training and become security trustees for their synagogues.
"Bottom line is we as a community need to really have an understanding of our role in observing and responding where we see a potential threat to us," he said. "It's very clear that Jewish communities across the globe, including here in Ohio, continue to face increased risk of antisemitism, violence and terrorism directed at our community from a broad range of threat actors out there."
---
JFC training sessions
JFC Security offers no-cost training sessions Mondays through Thursdays starting at 6 p.m. for synagogues, schools and agencies. Sessions can also be scheduled during business hours if it fits the schedule of the organization better. Those interested in scheduling a training session for their organization can contact Jeff Robertson, deputy director of community-wide security, at jrobertson@jewishcleveland.org.
Available community trainings
Active Shooter Response (Run-Hide-Fight)
Project Safe Classroom – Stop The Bleed. Next training scheduled for Feb. 15 at Jewish Family Experience at 2200 S. Green Road in Beachwood. Training begins at 6 p.m. Open to the community
Usher-Greeter Training
Situational Awareness
Bomb Threat Management
Emergency Communications – How to properly utilize the JFC Security Community radios stationed throughout the community within synagogues, schools and agencies.
Understanding the Terrorism Attack Cycle. How to identify pre-incident indicators.
Evacuation exercises held before, during or after Shabbat services.
Vulnerability assessments are also completed for those organizations seeking security funding through state and national grant opportunities.