09/10/2012
The Beginnings of a Great Partnership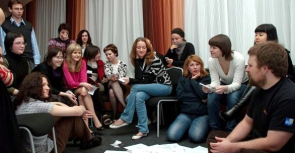 by Neil Waxman,
Chair of the Overseas Connections Commitee
JCF's work began during the worst economic conditions facing Russia since WWII. The ruble crashed, the stock market fell 75 percent, and the government defaulted on its debt. We began by helping those who could not help themselves. We helped the elderly, who were immobile and living in Stalin-esque fifth floor walk-up apartments, with little food and even less medical attention. We assisted an under supply of Jewish kindergartens, and childcare centers, where conditions were less than substandard.
Our goals were to focus most of our resources and attention in a barbell sort of approach on those two cohort groups. However, we hoped to ultimately work toward the middle and help teens, young adults, families, and the like. Some of those children who attended our kindergartens are now our camp counselors, and some of those teens who were active in Hillel are now working in the Jewish organizations which we have helped to establish.
Roll forward to September 9th 2005. After seven years of very heavy lifting by the American Joint Distribution Committee (JDC), other international Jewish foundations and organizations, in conjunction with the Jewish Federation of Cleveland (JFC), it's staff and lay leaders, and our partners in the St. Petersburg Jewish Community, the ribbon was cut on the YESOD (Hebrew for "foundation," but also a Russian acronym for Yevrensky Sankt Peterbursky Obhin Dom, translated as St. Petersburg Jewish Community Center ), the first Jewish building to be constructed in Russia in almost 100 years.
This 75,000 sq. ft. building in the center of St Petersburg serves as the center of Jewish communal life for the 100,000 Jews who reside there. Several of the social service agencies targeting children, young adults, the elderly, and families which were conceived, funded and nurtured in large part by the JFC, and who struggled in meager facilities, while providing extraordinary services, moved to this wonderful facility.
YESOD has become an incubator for Jewish life and an undeniable symbol of Jewish renaissance for St. Petersburg's Jews, general public, and the rest of the FSU. These Jews, despite a history of torment along with continued daily roadblocks, have worked hard and fought great odds to reconnect with their heritage and to pay respect to our mutual ancestors. The JFC facilitates more than 40 Jewish renewal programs in St. Petersburg, which touch tens of thousands of Jews daily.