05/10/2017
A Father/Daughter Bond in Israel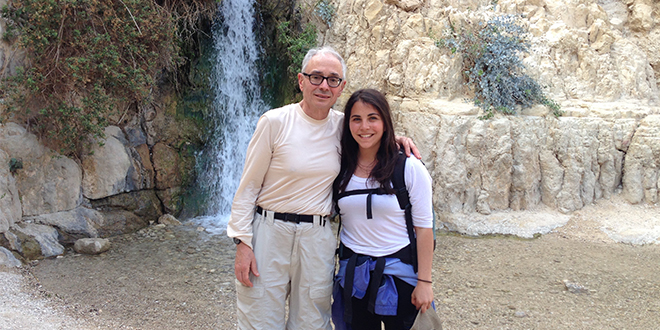 Rachel Lieberman of Shaker Heights has been volunteering in Israel for the past six months through Masa Israel, a post-college service program, part of I-Connect, an initiative of the Jewish Federation of Cleveland. Through Masa, Rachel is helping Ethiopian Israelis learn to read and write English at the Yahel Social Change Program in Ramat Eliyahu.
This is Rachel's seventh time traveling to Israel, but this mission was unlike any other before – she was immersed in the country for 10 months and able to experience living like a local. Also, her father, Arthur, was able to join her for part of the time. "It was special to me to be able to share this with him. He was able to see where I've spent a lot of time. He's such a supporter of Israel, so it's great that he was finally able to come and experience it himself."
This was Arthur's first trip to Israel. "I'm not much of a tourist," he said. Arthur spent two weeks teaching English to Israeli students in Beit Shean, Cleveland's sister city, through a Federation mission called Volunteer Beit Shean. "I wanted to volunteer in Israel, but not in the big city. Beit Shean was a perfect location for this. It was also special to help a city so connected to Cleveland."
Aside from Arthur and Rachel's social work, they spent time together traveling the country. "She was my guide through the country," Arthur said. "Just to be able to see how much she's accomplished in this country meant everything to me. She even arranged for us to spend a night under the stars in the Ein Gedi Nature Reserve."
While Israel holds an important place in Rachel's heart, she always takes a piece of Jewish Cleveland with her. "The opportunities I've had here wouldn't have been possible without the support of the Jewish Federation of Cleveland and everything they do for the community," Rachel said. "I went to Cleveland Hebrew School and to @akiva; that definitely connected me to the Jewish community. A lot of my experiences are based on the strong foundation I grew up with and coming to Israel, I want to bring that love of Judaism and the Jewish community here."
For information on I-Connect, contact Rivki Ebner at rebner@jcfcleve.org or 216-593-2921. For opportunities to volunteer in Beit Shean, contact Tal Rothstein at trothstein@jcfcleve.org or 216-593-2861.
---
Related Items