06/18/2020
A Loving Tribute for a Lion of Judah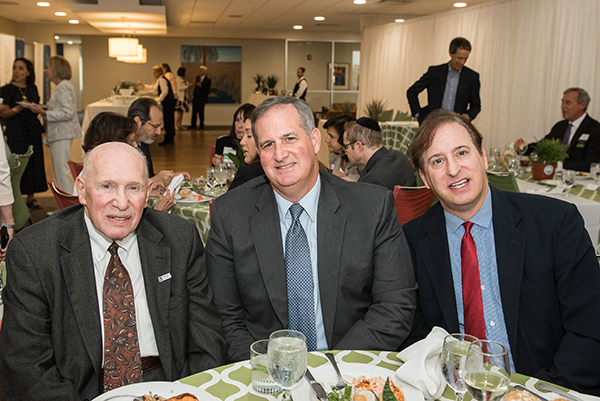 In August 2019, Dr. Dan Weidenthal attended the Federation's Endowment Book of Life celebration and signing. But the gift that he made wasn't about him, and it wasn't for him. It was in honor of and a tribute to his beloved wife Judy (of blessed memory) who passed away in 2017.
Dan moved to Cleveland with his family in 1932. His father was a pediatrician who worked at Mt. Sinai and St. Luke's hospitals, treating and caring for children in the city of Cleveland. Dan can still remember going on house calls with him, driving all around the city to attend to his father's patients. When asked about lessons in tzedakah, Dan remarked that his father's charity was given through the care he gave to his patients – often working long hours and on weekends.
Dan followed in his father's footsteps and became a physician. His busy practice as a pre-eminent retinal specialist meant that Judy held down the fort for their family. She weathered the storm of many 18-hour workdays, cancelled social events because of emergency surgery, and truncated vacations. In fact, many of their vacations revolved around medical meetings which meant that even when they traveled to exotic locations, Dan was tied up for the day and Judy had to fend for herself.
Judy graduated from Cornell with a degree in Art & Architecture. Her artistic path eventually led her to photography, spending time at the Cleveland Institute of Art. She was well known for her impressive landscape photos. Another passion was involvement in the Jewish Federation of Cleveland, as a Lion of Judah. Dan recalled that sisters Eileen Sill and Lois Marcus first reached out to Judy to invite her to Federation events, which led to her becoming very involved in Women's Philanthropy.
After Judy passed away, Dan thought about what would be a fitting tribute to Judy. He decided to endow Judy's annual gift to the Campaign for Jewish Needs and he worked with Federation staff to create a Lion of Judah Endowment (LOJE) in her honor and memory. Dan remarked that this was the perfect thing to do because it is something that was important to her and reflected her interests. He is glad to perpetuate Judy's annual gift, because he trusts Federation to know what the community's needs are and to also allocate funds to meet those needs.
Dan shared that in Judy's lifetime she was a private person who didn't seek public recognition. By creating a permanent memorial to Judy, in support of the annual campaign, Dan has ensured that Judy's generosity and spirit will be remembered for generations to come.