07/30/2012
Jewish Family Center "Adain Lo" awarded the inaugural Roderman Prize in Disability
Jewish Family Center "Adain Lo" has been awarded the inaugural Roderman Prize in Disability that "recognizes the best in inclusive opportunities for people with disabilities." This is the first year in which this prize is bring presented, and hereafter it will be awarded annually to 10 organizations that represent the best in inclusion and promotion of public awareness for Jews with disabilities in Israel and throughout the Diaspora. The award includes a $20,000 grant to support its ongoing work in this field.Image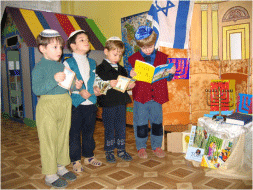 Jewish Family Center Adain Lo in St. Petersburg, Russia, is among the largest provider of Jewish programs for children and families in the city. The center's model of Jewish education with pluralism, a holistic approach to the family, creativity, independence and self-sufficiency is being studied by organizations in Israel and the U.S. The Center was among the first in Russia to hire people with disabilities, and is a vocal advocate on this topic.
Nearly 14 years ago, Cleveland entered into a strategic partnership with the Jewish Community of St. Petersburg to help renew Jewish life in a city where Judaism was forbidden under 70 years of Communist rule. The partnership's main goal was to enable Clevelanders to assist the Jews of St. Petersburg in becoming an organized, vibrant, and eventually, a self-sufficient Diaspora Jewish community. By every measure, our partnership has succeeded in assisting the Jewish community of St. Petersburg in establishing individual Jewish institutions and in creating a vital and very active Jewish community.
The partnership also allows Clevelanders to become engaged in Tikkun Olam in their own areas of expertise. In past years, Special Needs professionals from Cleveland have trained and consulted with professionals from St. Petersburg here in Cleveland as well as via internet and conference calls on issues touching education for children with Special Needs and support services for their families. A work group in support of capacity-building of leadership has been assembled to open up another avenue for engagement and enable us to move into a new phase of the community's development.
"Adain Lo delivers hope, inspiration and opportunity to many with disabilities, said Jay Ruderman, president of the Ruderman Family Foundation, the organizational goal of which is the full inclusion of people with disabilities in the Jewish community.
"This is a big honor," said Eugena Lvova, vice president of Jewish Family Center Adain Lo. "We strongly believe that the Jewish community should be open and welcoming for all…regardless of physical, social or financial conditions."
---
Related Items