05/20/2022
Albert Ratner Reflects on Career, Family, New Book
MEGHAN WALSH | STAFF REPORTER
Article reprinted with permission from Cleveland Jewish News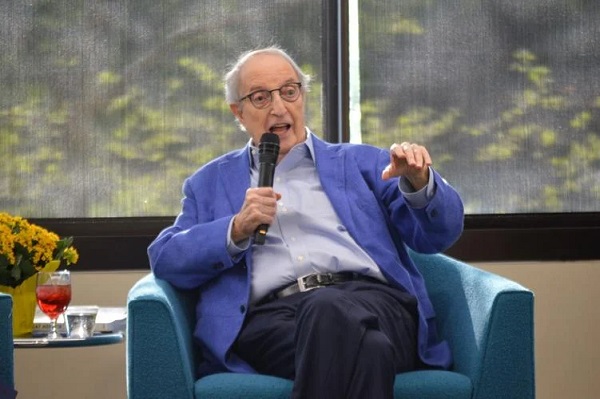 Albert Ratner, former CEO of Forest City Realty Trust, sat down with J. David Heller, CEO, president and co-founder of The NRP Group, May 12 to discuss Ratner's upbringing, business endeavors, community involvement and upcoming book, "The Great Age Reboot."
The Jewish Federation of Cleveland in Beachwood hosted the conversation, "Interview with a Legend and a Leader," where Ratner recalled the many mentors he learned from along the way, at its Jack, Joseph and Morton Mandel Building in Beachwood.
"I've been fortunate because through my whole lifetime, I've had nothing but people that I've learned from, and it started with my family," Ratner said.
Ratner said he spent a great deal of time with his mother while growing up. She told him at a young age, "You're Jewish and you're going to be different," he recalled.
A lifetime trustee of the Federation and former board chairman, and a member of the International Council of the American Jewish Joint Distribution Committee, Ratner has spent a majority of his 94 years involved in dozens of committees and causes throughout Northeast Ohio. He also founded Global Cleveland and Shoes and Clothes for Kids, Heller told the audience.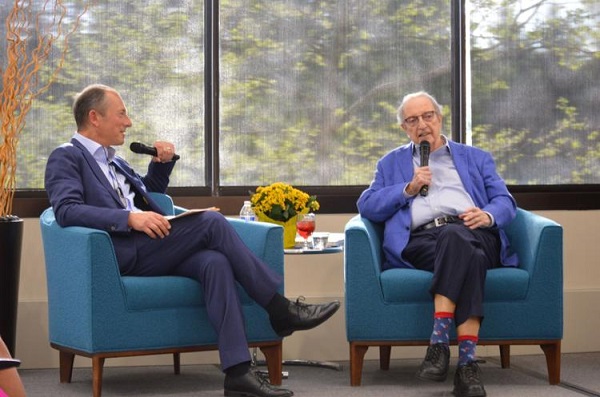 Heller recalled a conversation he had with Ratner during the early years of The NRP Group. He said when he approached Ratner, he laid out his business plan and was met with a response of "I think it stinks."
Heller said Ratner advised him not to let his excitement overshadow reason and potential.
"(Ratner) said, 'You're so excited that you're building all this affordable housing in the state of Ohio," said Heller, who is also board chair of the Federation. "With one stroke of a pen, you could be out of business. Be careful. Think about what you're really good at and figure that out and do it on a national basis."
Heller praised Ratner's wisdom and said that the very next year, Ohio limited the NRP Group to two developments in the state.
"Fortunately, we went on to Michigan and North Carolina and other parts of the country," Heller said. "If we hadn't done that, I don't know if we'd be here today."
From the old Van Aken building to Chase Bank in Manhattan, Ratner and Forest City made their mark nationwide. Ratner also highlighted his appreciation for women's rights during his interview and the value women have in the business world, recalling a specific project in which women served as instrumental assets. He told the story of Forest City bidding for The New York Times building project, saying that two women made the Forest City presentation. The Times later contacted him and informed him that Forest City had been selected.
"Stunned, I say 'Why would you have chosen us?'" Ratner recalled. "And they said, 'Because everybody walked in the room with one woman, they never said a word. You walked in the room with two women. They did the program. You share our values.'"
Ratner's book, which he co-wrote with Dr. Michael Roizen, who writes a monthly health column for the Cleveland Jewish News, and Peter Linneman, will be released on Sept. 13. "The Great Age Reboot: Cracking the Longevity Code for a Younger Tomorrow," addresses new discoveries in how genetics affect medical conditions and the lengthening of life expectancies as time goes on, and offers insights into how people can plan for improved physical, mental and financial health.
"Three years ago, we came to the conclusion that there's a massive shift taking place in the United States, and it borders on medicine and community," Ratner said. "So, we decided we're going to write a book."
Ratner said that when he was born, his life expectancy was 57 years of age, adding that the book addresses how longevity has changed and will continue to change as technology, medicine and genetics evolve.
"I was supposed to be out of my house when I was 57," Ratner said to the many Realtors in attendance. "Don't call me for a listing, because I ain't ready to go yet."
The book is expected to be released in the fall.