09/16/2015
All About jHUB
One Year of Amazing
For Rabbi Melinda Mersack, Director of jHUB, an initiative of the Jewish Federation of Cleveland that connects interfaith families to Jewish life in Cleveland, the New Year is off to an extra special start. Unconventional perhaps, Rabbi Mersack celebrated Rosh Hashanah at the beach with interfaith families from across Greater Cleveland.
In this Q&A, Rabbi Mersack speaks about her experience connecting interfaith families through Jewish traditions and holidays like Rosh Hashanah. Check it out!
Tell us about yourself?
I am a resource to all things Jewish in Cleveland, no matter who you are; and especially for jHUB's interfaith families. I'm here for individuals and families in whatever capacity they need me. I'm here to support each interfaith family on their individual journey.
Can you tell us about the program you run, jHUB?
jHUB's great! We've been around for a little more than a year. The Jewish Federation of Cleveland recognized that a large percentage of our community was interfaith or part of an interfaith family, and many of these families were seeking a connection to Jewish life and culture. So, the Federation and the Jewish Education Center of Cleveland (JECC) partnered and created jHUB, connecting interfaith families to Jewish life in Greater Cleveland, and to each other.
So what do you do?
We do it all! There is no one person or family that's just like another. So we don't take a one-size-fits-all approach. We offer social gatherings, holiday experiences and Jewish learning in a supportive, welcoming environment. We listen and respond to the interests of our families.
What's one of your favorite programs you've done this past year?
That's easy, Seder in a Box!  People loved it! We sent out an email through the Federation inviting interfaith families to register for a free Passover gift. And before we knew it 300 families signed up, and each of them received a box in the mail with holiday recipes, games, the ritual Passover plate, a Haggadah–that's the story of Passover recited during the Seder meal. And just like that they had all that they needed to celebrate Passover at their home.
And so what's new this year?
Well, the year is off to a great start! For the Jewish New Year, Rosh Hashanah, jHUB families met at the beach and it was beautiful! People of all ages, grandparents, young couples, children, everyone came. We sang songs, shared stories, and ate apples and honey, of course. But what was really meaningful was the opportunity to reflect on the past year together. We talked about how our actions, our words, how we react, affect one another. And we recognized that we're all connected. Together, we stood on the sands of the beach, the seagulls flying overhead, and we threw bread crumbs, representing our mistakes, into the water, symbolically washing them away. It may be the first time that some of these families have practiced Tashlich together. It was a wonderful way to come together as a community.
What do you want people to know about jHUB?
It's an amazing feeling to help families experience the beauty of Judaism on their own terms. And meeting new people is a real blessing.  If you or someone you know is looking to connect with Jewish life and culture in Cleveland, or with interfaith families, call me at 216-371-0446, or email me at MMersack@jecc.org.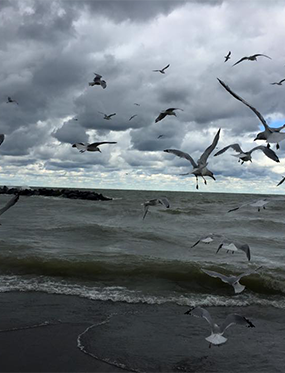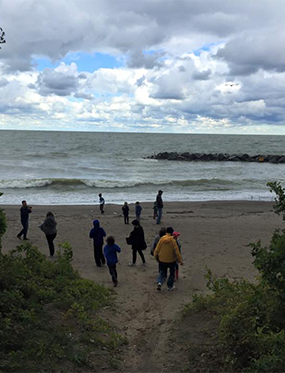 Rabbi Melinda Mersack and jHUB, a Federation-supported program, celebrated Rosh Hashanah with a lovely service at Euclid Beach and Huntington Beach for interfaith families in the greater Cleveland area.
Rabbi Mersack was recently chosen for the Rabbis Without Borders program, an initiative that helps rabbis make Jewish thought and practice more available for improving people's lives. Read more about the program.
---
Related Items