09/10/2015
Amid Chaos in Ukraine, We Provide Comfort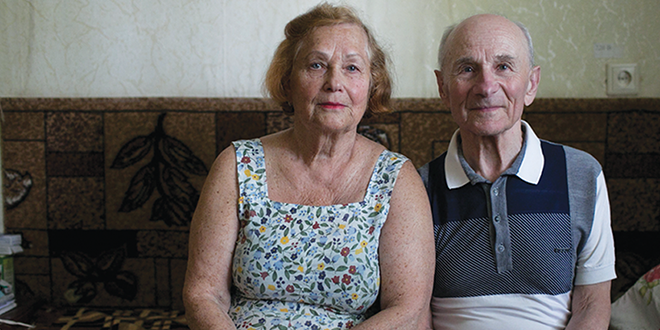 Raisa Liebenson believed she and her family would be safe after fighting broke out in her hometown of Donetsk, Ukraine. But when the 78-year-old's apartment was destroyed by a mortar shell that rendered her temporarily deaf, she and her husband knew it was time to leave.
Together, the elderly couple fled to Pavlograd, a city located away from the front lines, where they received much-needed help from Jewish Federation of Cleveland's international partner, the Joint Distribution Committee (JDC) and its network of Hesed social welfare centers.
They were not alone. More than 3,000 Jews so far have escaped the conflict in eastern Ukraine—many of them also vulnerable seniors who depend on our support for survival.
Working through the JDC, our Cleveland community provides vulnerable Jews in Ukraine with basic necessities like shelter, food, and medicine. During brutal winters, they receive blankets, socks, and other warm items to help ward off the cold.
Raisa is particularly grateful for the basics: meat, cheese, sour cream, and oil that allow her to feel some comforts of home while displaced. "We would not survive these eight months in Donetsk without Hesed," she told us.
Raisa's not sure whether she and her husband will ever get back to their home in Donetsk, or if they should build new lives in Pavlograd. But one thing is certain: No matter where they are in Ukraine, they will be able to count on support from JDC and the Jewish Federation.
Raisa's story is made possible because of generous donors like you. Please join us, as we aspire to leave no community member behind, in Cleveland, Israel, and 70 countries around the globe. Donate today.
---
Related Items