09/06/2018
Annual Meeting Examines Safety Practices, Introduces New Technology
Article reprinted with permission from Cleveland Jewish News.
By Alyssa Schmitt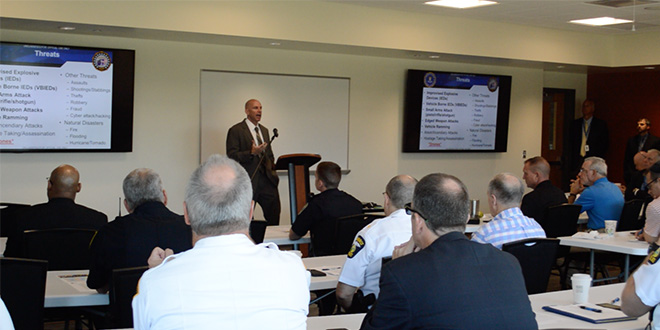 Local law enforcement and security specialists reviewed safety practices, discussed possible threats and outlined emergency notification options during the Jewish Federation of Cleveland's annual High Holy Days security meeting Aug. 28.
Police officers from Beachwood, Cleveland Heights, Lyndhurst, Orange, Pepper Pike, Shaker Heights, Solon, South Euclid and University Heights, along with lay leaders from local synagogues, attended the meeting at the new Beachwood Public Safety Center and Fire Station 2.
"As we all know, there is no magic bullet when it comes to all these topics, there's not one all-inclusive fix for everything," said Beachwood Police Chief Gary Haba. "Safety and security measures should be in a constant state of improvement and evolution."
In addition to hiring outside security, Haba said the best "eyes and ears" are members of the community as they know who belongs in the area and they can keep a lookout for those who don't. With the right training and preparedness, these members can be ready if a threat is present.
Jim Hartnett, director of community wide security at the Jewish Federation of Cleveland and a former FBI agent, brought in Special Agent John Breen of the Cleveland FBI joint terrorism task force and University Heights Prosecutor Michael K. Astrab to illustrate examples of recent threats the community has faced, noting the community needs to stay aware at all times.
"We've got to keep our eye on the ball," Hartnett said. "While we are in a relative safe haven here in Cleveland, Ohio, these people live amongst us. They're out there a lot of the times flying under the radar."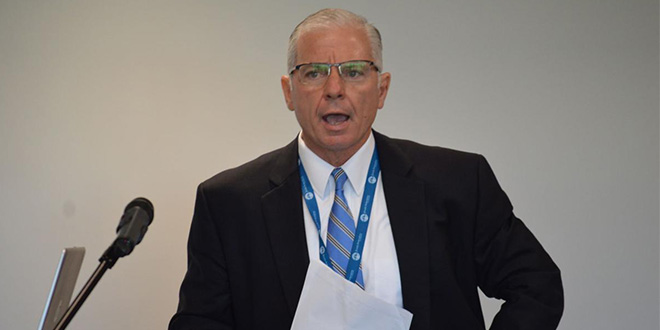 Breen said that many Ohioans might feel terrorism "isn't a problem" as they feel it doesn't happen here. However, he argued differently and referred to the recent July 4 terror plot in Cleveland where a man had moved to Cleveland in the spring and was planning an attack on the July 4 fireworks festival in Cleveland. The Cleveland joint terrorism task force stopped him July 1 and the man is in jail awaiting a trial.
The instance only strengthens Breen's belief in encouraging family members and co-workers that they should report suspicious activity and to receive active shooting training.
Toward the end of August, a man named Abdulrahman Abukhalil was sentenced to six months for making harassing telephone calls to synagogues in Cleveland and Cincinnati. Astrab, who was the prosecutor in this case, said Abukhalil received the harshest sentencing possible in part because Astrab allowed representatives, including Hartnett, to speak on behalf of the Jewish community.
"When victims appear in courtrooms, it puts the pressure on the judge to give them a harsher sentence," Astrab said. "One thing you take away from this today, make the effort to come into court. If someone is hesitant, go with them, encourage your members to go into court."
In addition to being aware of one's surrounding and noting who doesn't belong at a building, Breen said synagogues and agencies can be more prepared in an emergency event by making trauma kits available. The Federation has distributed more than 600 Project Safe Classroom Backpacks to area Jewish day schools, religious schools and early childhood centers that contain lifesaving equipment that can be utilized in the event of a hostile intruder.
"Providing trauma care is very important in many active-shooter situations," Breen said. "First responders, EMS and fire, they're not going to be able to get to the victims in a quick amount of time. It's just the way the situation unfolds. ... We recommend not only getting training, but getting trauma kits and putting them throughout different buildings, schools, religious facilities so that these are in the locations just like you have a defibrillator."
Many synagogues have received radios from the Federation, which alert them to an emergency. However, those who keep Shabbat cannot use the radios, so Hartnett introduced a system called Shabbos Link. The equipment looks similar to a security system panel and can be placed anywhere in a building. It can be programmed to flash a light, make an alarm and a message describing the alert will appear on its screen. The Federation is offering the device to synagogues for $11 a month.
"We saw this was being used successfully in the Los Angeles Jewish community," Hartnett said. "An alert will be sent out by the Federation or by police dispatch when you're dark for 24 hours or so or 'off the grid.' This will automatically activate and let you know there's some emergency in the community without you violating any religious principles."
---
Related Items