02/09/2023
Apply for Coaching Circles: Series VIII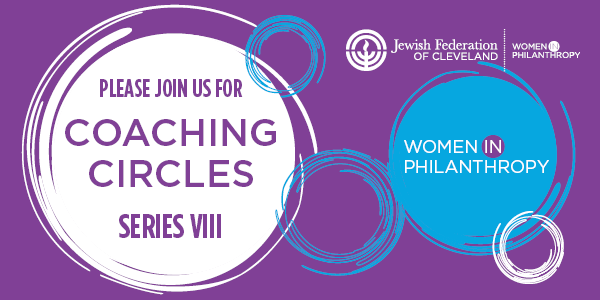 Coaching Circles offers women in Jewish Cleveland an open, motivating, and engaging process to foster personal growth and connect women across the community through meaningful conversations and peer-based coaching. Learn from a distinguished group of women, including: Larissa Elgudin, Rachel Feinleib, Kathy Hexter, Eliana LeVine, Leah Spector, and Rachel Uram.
Each skilled mentor leads a Circle, which includes up to six dynamic women. Circles will meet for six sessions, from April to October 2023. Session dates will be determined with your individual Circle members and mentor.
The program will launch with a full group Opening Program on April 19 at 7 pm and conclude with a full group Closing Program on September 27 at 7 pm.
Circles will discuss the following topics:
Prioritizing your health and well-being
Adapting to change
Creating your own personal mission statement
Exploring inclusion from a Jewish perspective
Exploring your personal connection to Jewish Cleveland
Women from across our diverse community are invited to participate.
Space for the 2023 program is limited. Application deadline is Wednesday, March 15 and participants will be notified by March 31.
For more information, please contact Jaclyn Szaruga at jszaruga@jewishcleveland.org or 216-593-2900 x218.
Participants are asked to make a minimum gift of $365 to the 2024 Campaign for Jewish Needs.