01/19/2017
Apply Now: Internship in Tel Aviv
Applications are now open for Onward Israel, a prestigious eight-week summer internship program in Tel Aviv for Jewish Cleveland young adults. The Jewish Federation of Cleveland, in partnership with Masa Israel Journey and The Jewish Agency for Israel, are now selecting college juniors, seniors and recent college graduates to live and intern in Tel Aviv from June 15 – August 10, 2017.
Onward Israel internships are life changing. According to Beachwood resident Sammie Jacobs, a recent Onward Israel participant, her internship at an environmental consulting startup exceeded expectations. "The employees were warm and welcoming. I learned new skills, and the company utilized my business interest and background to give me projects that fit specifically to my passions."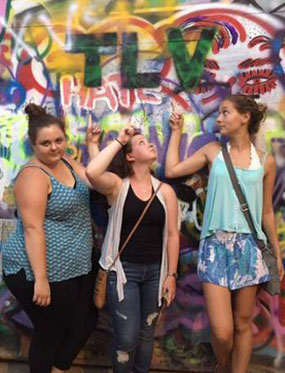 Onward Israel participants can choose an internship in the fields of high-tech, the arts, business, finance, communications, non-profit, and more. In addition, they will live in shared apartments in the heart of Tel Aviv and immerse themselves in the Israeli lifestyle.
"One day we were offered a free yoga lesson at work," Jacobs said. "We met at the beach to do yoga and then we went to the office and put in our day at work. At the end of the day, we went back to the beach and did a group surf lesson. Can you imagine that happening in Cleveland? Even though the work was highly demanding, because we were able to bring our personalities into the workplace, we became more effective workers."
Qualified applicants are current college students or recent college graduates, who are from the Greater Cleveland area or currently live in the Greater Cleveland area. Applicants must have had one previous, short-term Israel experience, such as Birthright or a teen travel program. Program cost is $550 plus airfare.
Limited spots are available. Rolling Admission is on a first-come, first-serve basis. To apply, visit www.clevelandonwardisrael.com. For more information about Onward Israel, contact Mirit Balkan at mbalkan@jcfcleve.org or 216-593-2921.
---
Related Items