05/05/2021
Apply Now: LEADS 2021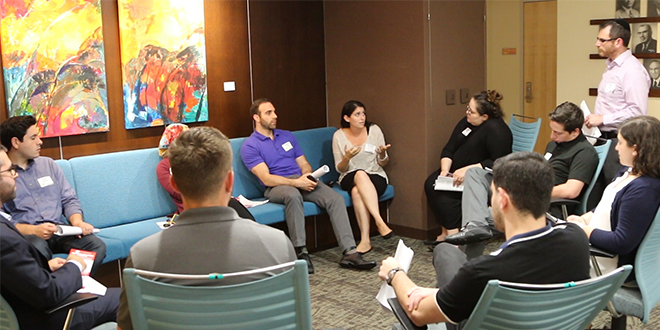 LEADS is designed to introduce young professionals between the ages of 21-45 to the Young Leadership Division, the Jewish Federation of Cleveland, and the greater Jewish community. This year's LEADS program will be virtual, allowing for intimate and safe opportunities to connect with fellow participants and high-profile leaders in the Jewish community. Together, we will learn about our collective history, how Federation works to meet the needs of the entire Jewish community, and how young professionals can shape the future of Jewish Cleveland.
The 2021 LEADS cohort will meet four times in July. Session dates and times are listed below. Each accepted applicant is expected to attend at least three of the four sessions.
Session 1 – Federation 101
Thursday, July 1 from 7 – 8 pm
Session 2 – The Campaign for Jewish Needs and Federation's Beneficiary Agencies
Thursday, July 8 from 7 – 8 pm
Session 3 – StrengthsFinder Assessment
Thursday, July 15 from 7 – 8 pm
Session 4 – Combining Passion, Leadership, and Philanthropy
Thursday, July 22 from 7 – 8 pm
LEADS is a great way to launch or continue to grow in your leadership journey. We hope you will consider applying.
Please SUBMIT YOUR APPLICATION by Wednesday, June 2.
Questions? Please contact Leah Markowicz, Director of YLD, at lmarkowicz@jcfcleve.org.
LEADS Co-Chairs: Jeff Heller, Leora Lanzola, and Jonah Ricanati
---
Related Items