12/19/2016
Attend the IMPACT! Volunteer Showcase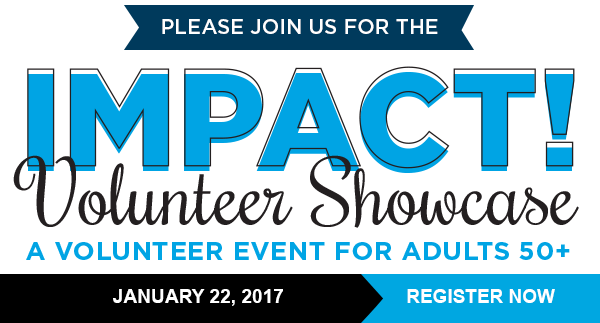 The Jewish Federation of Cleveland announces the IMPACT! Volunteer Showcase, a highly anticipated volunteer fair for Jewish Cleveland adults ages 50 and over. The Showcase will feature more than 20 organizations seeking volunteers, making it easy for guests to identify a possible match for their interests. The Showcase takes place on Sunday, January 22 from 9:30 – 11:00 am at the Federation's Jack, Joseph and Morton Mandel Building (25701 Science Park Drive in Beachwood).
IMPACT! is an initiative of the Federation's Jewish Volunteer Network, a one-stop shop for connecting Jewish Clevelanders to meaningful and rewarding volunteer experiences in Cleveland and beyond. The Showcase will be held as a follow up to the successful January 2016 IMPACT! Launch Event that drew an audience of over 400 community members.
"We were thrilled knowing that the idea of volunteering resonated with so many," said Bob Cohen, Co-Chair of the Showcase, alongside Carol Paull. "The Showcase will provide potential volunteers an opportunity to hear about volunteer options directly from our partnering social service agency professionals, connecting volunteers to inspiring opportunities."
Representatives from social service agencies within the Cleveland community will be present at the Showcase, as well as many Federation partner agencies like Menorah Park, Montefiore, Jewish Family Service Association (JFSA), and Bellefaire Jewish Children's Bureau. Guests will also have the opportunity to hear about personal volunteer experiences from current IMPACT! volunteers over bagels and coffee.
The 2011 Greater Cleveland Jewish Population Study found that nearly one-third of Jewish people in Cleveland were born between 1946-1964. With the realization that a significant segment of the Jewish community were part of the Baby Boomer era, the Federation reached out to community members within this demographic to learn more about their needs and aspirations for the next step in their lives. The focus group insight included: adults over 50 are looking to help the community, connect with like-minded individuals through social programming, use their professional skills and talents to aid others in need, learn new skills through workshops and certification courses, and travel to do good for others outside of Cleveland.
Showcase registration cost is $5 per person. To learn more and register for the IMPACT! Volunteer Showcase, visit www.jewishcleveland.org or contact Jackie Reed at jreed@jcfcleve.org or 216-593-2858.
---
Related Items