12/09/2016
Bar Mitzvah Project Raises $20,000
Bar mitzvah project raises $20,000 for Holocaust survivors
Republished with permission from Cleveland Jewish News.
by Ed Wittenberg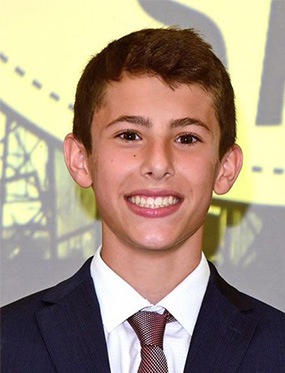 Last summer, 13-year-old Sam Heller took a trip to Europe with his family that affected him in a way that he couldn't have imagined.
The Hellers, of Moreland Hills, traveled to the sites of the concentration camps at Mauthausen in Austria and Terezin in the Czech Republic. Although he previously had learned a great deal about the Holocaust in Jewish day schools, Sam said this trip really opened his eyes to what Holocaust survivors had to endure.
"I saw the camps that they had to live in, what they fed them, the gas chambers, the crematoriums, all that," said Sam, an eighth-grader at University School in Shaker Heights. "That was very meaningful for me; I felt very connected and I really felt like I understood."
As a result of that experience, Sam decided that instead of personal gifts for his bar mitzvah, he would ask his friends and family to donate to Jewish Family Service Association of Cleveland's Holocaust Survivor Support Program. He also included a personal note in everyone's invitation explaining why this was so important to him and invited them to make a donation in any amount.
"I'm so fortunate to have everything that I have, and not all of these Holocaust survivors are so fortunate," he said. "I know that they're here and they need help."
Nearly 400 people attended Sam's bar mitzvah Sept. 17 at Park Synagogue Main in Cleveland Heights, and about 90 percent of them made donations to the JFSA program, said Sam's mother, Becky Heller. Due to Sam's efforts, more than $20,000 has been raised for the program, according to a JFSA press release.
"We're very proud of him," Becky Heller said. "He has a lot of friends from Camp Ramah in Georgia, and a lot of parents from Florida and Tennessee were calling me and saying, 'We haven't seen anything like this; this is incredible.'"
In his note with the bar mitzvah invitations, Sam indicated there are many aging Holocaust survivors living in the Cleveland area who struggle to meet basic needs for food, housing, health care and transportation. Many live alone and have no extended family to help them, he added.
"I want to help these survivors because this population won't be here forever," he wrote. "They are important, not only to me, but our community."
On the reverse side of Sam's note was a list of what different items cost, to help people decide how much they wished to donate. For example, two kosher home-delivered meals cost $36, and 10 hours of home care costs $180.
Sheri Sax, executive director of older adult services for JFSA, said Sam is "on the minds of everyone, especially the survivors." She said although the Conference on Jewish Material Claims Against Germany and the Jewish Federation of Cleveland are the primary funders of the JFSA's Holocaust Survivor Support Program, a smaller emergency fund that has helped fund it will end Dec. 31.
"Sam's gift in his honor will go directly to emergency funds, so it comes at the right time," Sax said. "His generosity will allow the survivors to continue to receive what they desperately need in times of emergency."
When Sam spoke at a Nov. 22 meeting of the Holocaust advisory committee, jointly sponsored by the Jewish Federation of Cleveland and JFSA, he explained the personal reasons for his unusual bar mitzvah project. The committee includes a handful of local Holocaust survivors.
"Ever since I can remember, my grandfather (Bill Heller) has told me about his cousin, Martin Newman, and how he not only survived the Holocaust but also Mauthausen, a labor camp in Austria," he told the committee. "This summer, I had the opportunity to travel there to see it firsthand, and I can honestly say that I don't know how he survived this camp."
Sam went on to discuss his visit to the site of what he called a "propaganda camp" in Terezin, located about an hour from Prague, the capital of the Czech Republic.
"After this trip, I became so interested in learning more about the Holocaust, and I knew that I needed to do my part to help the survivors," he said. "Also, my father has been on the United States Holocaust Memorial Museum's board for the past several years, and I have seen personally how important it is to preserve the memory so that we can truly say, 'Never again.'"
Sam's father is David Heller, whose six-year term on the board of trustees of the U.S. Holocaust Memorial Museum ended last year. David Heller is also a past general chair of the Federation's Campaign for Jewish Needs and was a vice chair of the Federation's board of directors for five years.
"Ever since I was little, family discussions have always included discussions of Israel, whatever is happening there, and that really helps me feel connected," Sam said. "But I'm so lucky because I've actually been to Israel three times – twice for my siblings' b'nai mitzvah, and once for a family friend's bar mitzvah – so I've gotten to see what Israel is like, which is really awesome."
Sam, who previously attended Gross Schechter Day School in Pepper Pike and Joseph and Florence Mandel Jewish Day School in Beachwood, is looking forward to celebrating his bar mitzvah in Israel this winter. This event will be a b'nai mitzvah, shared with his cousin, Carly Gimbel.
A first-year volunteer at Friendship Circle of Cleveland in Pepper Pike, Sam has been giving back to the Cleveland Jewish community since he was 8. That's when he started making calls annually to solicit donations on Super Sunday, the Federation's dialathon that helps support its Campaign for Jewish Needs.
"Any chance I get, I want to help the community," he said. "I just really enjoy it."
---
Related Items