10/22/2021
Barbara S. Robinson Receives Prestigious Gries Family Award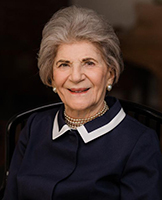 The Jewish Federation of Cleveland is proud to announce that Barbara S. Robinson is the 2021 recipient of the Gries Family Award in recognition of her lasting impact on Cleveland's Jewish and general communities. For more than 25 years, the Gries Family Award has honored individuals who have demonstrated extensive top leadership in Federation and other local Jewish organization activities, as well as significant leadership in Greater Cleveland's general community. Robinson was presented the award at the Jewish Federation of Cleveland Board of Trustees meeting on October 21.
"I am honored to receive this distinguished award," said Robinson. "We have inherited a great tradition of philanthropy for the benefit of society which is our responsibility to sustain, stabilize, grow and strengthen with even new opportunities."
Over the years, Robinson has held leadership roles with a wide range of non-profit organizations that focus on the arts, community, and education. Her current work includes serving as honorary trustee and member of the Executive Committee of the Musical Arts Association (the governing body of The Cleveland Orchestra); chair emerita and trustee of the Cleveland Institute of Music; chairman emeritus of Cleveland Arts Prize; honorary trustee of the Cleveland Museum of Art; director, Americans for the Arts (Washington, D.C. and New York); life member of the Board of Trustees of the University Hospital's Case Medical Center; and trustee of the Maltz Museum of Jewish Heritage.
She also has provided leadership to the Jewish Federation of Cleveland, including serving on the Board of Trustees, as well as being a member of its Arts and Culture advisory board, and Endowment Fund committee.
"Barbara combined her love of music with her education in marketing to make a career as a volunteer serving nonprofits which mainly focused on the arts," said Marcia Levine, chair of this year's Gries Family Award selection committee. "She hasn't just served, she has led. There are more than 50 nonprofits to which she provided leadership in fulfilling their missions. But she brought something even rarer – leadership in how to be successful fundraisers to sustain their organizations."
The Gries family was one of the first Jewish families to settle in Cleveland. The Gries Family Award includes a donation to a charitable cause chosen by the recipient. Robinson designated her donation to the Musical Pathway Program of the Cleveland Institute of Music.