11/16/2023
Bennett Brings Message of Strength, Unity to Cleveland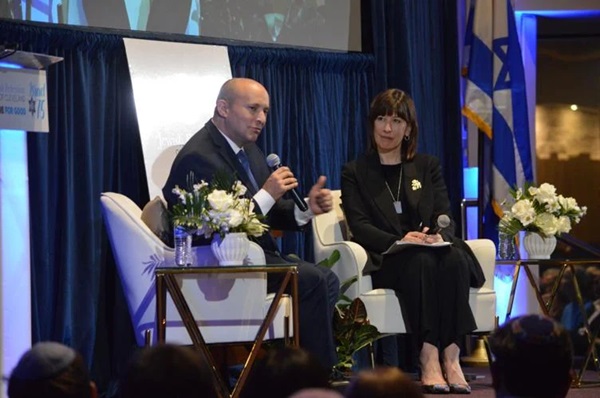 COURTNEY BRYNES | CJN
Article reprinted with permission from Cleveland Jewish News
Over a month after the Oct. 7 attack by Hamas on Israel, former Israeli Prime Minister Naftali Bennett visited Cleveland to share a message of strength and unity.
The Jewish Federation of Cleveland hosted "An Evening with Former Israeli Prime Minister Naftali Bennett" on Nov. 15 at B'nai Jeshurun Congregation in Pepper Pike, originally planned during its yearlong celebration of Israel's 75th anniversary and to benefit the annual Campaign for Jewish Needs. After Oct. 7 left 1,200 in Israel dead, the focus turned to supporting Israel and the Israel Emergency Campaign.
"The Jewish people are very unique in that this horrible massacre happened, but what we're seeing as a result is not people moving away from Israel, but tens of thousands of Israelis abroad and Jews over the past few weeks have been coming to Israel to volunteer as doctors or in farming or all around," Bennett told the Cleveland Jewish News prior to the event, "And we're seeing an outpour of support of Jews around the world standing up for Israel because of the understanding that a strong Israel is strong Jews."
Before he addressed a crowd of 900 in the evening, Bennett spent his first visit to Cleveland also speaking to high school students and told the CJN he was amazed by their love and support for Israel. The event was hosted at Fuchs Mizrachi School in Beachwood and included students from Mizrachi, Chaviva High School and public schools as he spoke to them about how to use their voices and stand up for Israel.
And the day before his visit, 290,000 people, including 1,800 Clevelanders, descended on Washington, D.C., in a show of support for Israel.
"I'm just now getting to know the Jewish community in Cleveland, and I am just overwhelmed by the special spirit that there is here," he said. "Something really good is happening in the Cleveland Jewish community, there's a good DNA in this community of unity, of pride to be Jewish, of connection to the state of Israel."
He also addressed the surge in antisemitism that has occurred since Oct. 7, particularly on U.S. college campuses, but encouraged students to fight back and never be silent. Doing so, he said, builds their future character and strength.
"We're no longer soft victims," Bennett said. "We don't want to be victims, we want to fight. And the courage now builds your character for the rest of your life. And the basis is being a proud Jew."
Bennett recalled his own experience of finding out about the atrocities of Oct. 7 and the personal friends he has lost since. He said after hearing reports of the terrorist attack, he drove over to his former reserve unit and pushed for reserve soldiers to take rifles and respond to the attack.
"The dimensions of this disaster only gradually unfolded and it was definitely the worst days of my life," he said.
While he said the attack on Oct. 7 had been long in the works, the timing was made possible due to the past year of divisiveness in Israel as it weakened the Jewish state which invited a concerted attack from Hamas, Hezbollah and Iran. Prior to Oct. 7, Israel had seen over 40 straight weeks of demonstrations due to controversial judicial reform.
"This was a terrible mistake we made of dividing ourselves and tearing ourselves apart from within," Bennett said. "But now we're fixing that mistake and once we're united again, we're way, way stronger than all of our enemies combines. So, I'm optimistic because the remedy to what happened is to unite, be strong."
As he joined in a conversation led by Erika Rudin-Luria, president of the Federation, he spoke of how Israelis have come together. From those who jumped into action to defend their's and others' communities on Oct. 7 to the civilians volunteering to gather and sort supplies and help those now internally displaced in Israel.
When asked how the community abroad can help Israel, Bennett had a simple message. He told attendees he has a rule, "When you're not sure what to do, do."
Bennett spoke of what led to Oct. 7 and how Israel is responding to carry out its two objectives – to eradicate Hamas and bring the hostages home. These objectives, he admitted, can contradict each other because as they negotiate for the release of hostages, Hamas' two asks are for the release of prisoners and humanitarian pauses.
"A pause is a very bad thing in war," Bennett said, sharing an analogy of giving a boxing opponent a pause while they are down during a match and allowing him to recover and gather strength. "The best way to win something is the continuity, to hit him more when he's down."
While he shied away from criticizing or offering advice to the Israeli government, one action he suggested civilians could take was to pressure Qatar, which has a "degree of leverage on Hamas."
"Right now Hamas has all the leverage on us, they've got all the prisoners," Bennett said. "Let's say I'm negotiating with you, and I don't have leverage, you have all the leverage. So, you know what I would do? I would step on your foot and not let go, and then say let's continue negotiating. And that's what we need to do to Qatar."
The conversation also touched on Bennett's legacy of leading the most diverse government coalition in Israel's history. When asked if such a government could be formed in the future, he responded that it is the only way forward.
"Not only is there a future, I think it's the only possible future forward," he said. "This disaster is a result of division and the remedy is unity, and unity among people that don't agree. Because Israel is divided in many opinions, and that's fine, it's desirable."
In speaking of the present circumstances, Bennett commented multiple times that this is Israel's "darkest hour, but it's also our finest hour," as they face the horrors of the Oct. 7 attack, but become united and stronger.
The event also included welcome remarks from Senior Rabbi Hal Rudin-Luria of B'nai Jeshurun, Michael Haas, event co-chair with his wife Raquel, and Beth Wain Brandon, general campaign chair. Haas and Brandon discussed their recent trip to Israel in their remarks. Brandon also emphasized the importance of supporting the Federation's annual campaign as this work is what allowed the community to be able to respond on Oct. 7.
To donate to the Federation's Israel Emergency Fund, visit bit.ly/3SxYmaE.
To donate to the Federation's annual campaign, visit bit.ly/3uf8w65.