12/28/2017
Berick Hired as Federation Marketing, Communications Director
Article reprinted with permission from Cleveland Jewish News.
By Amanda Koehn
Rob Berick of Shaker Heights was hired as managing director of marketing and communications at the Jewish Federation of Cleveland.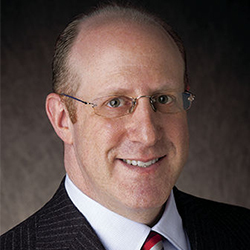 Berick, who was most recently managing director at Falls Communications in Cleveland, has worked in communications for his nearly 30-year career. He said he aims to build on the Federation's already strong communications strategy.
"I think the overarching goal is to continue to build upon the momentum that precedes me and continue to find a way to allow the organization to leverage communication as a strategic driver," he said.
He said working at the Federation and communications firms are similar in the sense that both work to create a distinctive voice to engage audiences.
"In a lot of ways, we are trying to help engage audiences and educate audiences and provide the information and perspective that they need as they are looking for resources and to become that trusted resource," said Berick, who belongs to Suburban Temple-Kol Ami in Beachwood.
Berick is a graduate of St. Lawrence University in Canton, N.Y. He lives with his wife, Kelly, and sons Joe, 17, and Will, 14.
---
Related Items