12/12/2019
Bradley Sherman Named New Campaign Chair for 2021/2022 Campaigns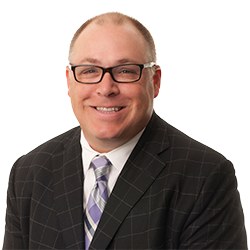 Bradley Sherman will serve as chair for the Jewish Federation of Cleveland's 2021 and 2022 Campaign for Jewish Needs. In this volunteer role, he will be responsible for providing leadership, vision, and strategy for the Federation's annual fundraising effort. Sherman, 51, is a principal and co-founder of Sherman Boseman Legal Group, where he focuses his practice on litigation and complex negotiations in a wide variety of labor and employment and commercial areas.
Sherman has been actively involved in Cleveland's Jewish community for several years, and currently serves as the Strategic Planning Committee chair for the Federation. Beyond the Federation, he is also a past president of the Cleveland Hillel Foundation, and has participated in prestigious leadership opportunities such as Cleveland Bridge Builders and Leadership Cleveland.
"Bradley is uniquely qualified for this position because of his vision, enthusiasm, and steadfast commitment to the Federation, as well as the leadership he brings to all of the activities in which he is involved," Heller said.
"I am honored to serve our community in this capacity for the next two years," Sherman said. "I have been personally impacted by the work of the Federation and have experienced first-hand the tremendous work the Federation and our beneficiary agencies do daily to help Jews in Cleveland and around the world. Working alongside Federation's leadership team and a dedicated network of volunteers, I'm confident we will continue to make life in Jewish Cleveland better today and even stronger in the future!"
For more information about the Jewish Federation of Cleveland and the Campaign for Jewish Needs, visit www.jewishcleveland.org.
---
Related Items