12/15/2022
Call for Entries: 2023 Creative Arts Contest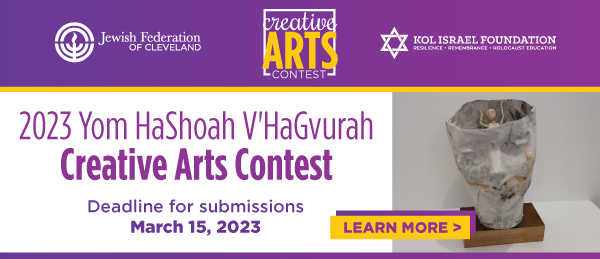 Calling all Middle and High School Students: Enter your artwork or poetry for the 2023 Yom Hashoah V'Hagvurah Creative Arts Contest, Cleveland's commemoration of the Holocaust and heroism.
The theme for this year's contest is the 80th Anniversary of the Warsaw Ghetto Uprising.

Students are invited to explore such topics as:
What would the uprising would have looked like?
How was it all documented?
Are there relevant connections to be made?
Are there lessons to be learned today?
Deadline for entries is March 15, 2023.
Cash prizes up to $2,500 may be awarded.
Winners and their schools will be recognized at the Yom Hashoah V'Hagvurah commemoration on April 17.
For more information, please contact Lindsay Friedman, education director at Kol Israel Foundation, at lfriedman@kifcle.org.
Rules and Guidelines are available here.
The Yom Hashoah Creative Arts Contest and the annual Yom Hashoah Commemoration are a partnership between the Kol Israel Foundation and the Jewish Federation of Cleveland.