08/31/2016
Campaign Launch Event Inspires
Fuchs Mizrachi School graduate's story inspires nearly 400 at Jewish Federation of Cleveland's campaign launch event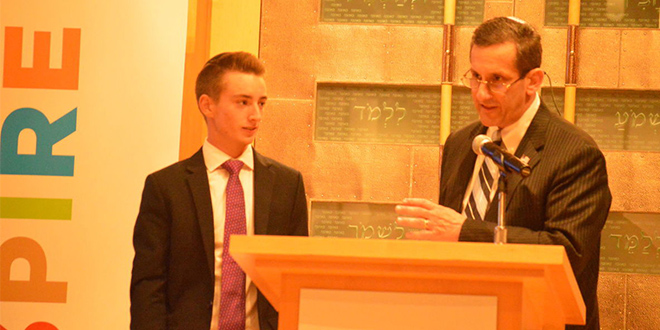 Article reprinted with permission from Cleveland Jewish News.
By Ed Wittenberg
There was a time when Noah Farrell's future didn't look very bright.
His parents, both drug and alcohol addicts, divorced when he was a child, and both died by the time he was 14. He lost interest in school and sports and became, in his words, "a sketchy kid."
But the Jewish community rallied around him, and he is grateful to the Jewish Federation of Cleveland and some schools and agencies supported by the Federation for helping to make that happen.
"If you focus on the good things in life and be optimistic, things will come your way," Farrell said at the launch event for the Federation's 2017 Campaign for Jewish Needs Aug. 30 at Park Synagogue East in Pepper Pike. "Good things don't happen when you're down all the time, and it took me a while to realize that.
"Everyone could use the help of the Jewish organizations that helped me. These organizations changed my life."
Farrell, of University Heights, received a standing ovation from the crowd of nearly 400 when he finished his 10-minute talk. A June graduate of Fuchs Mizrachi School in Beachwood, a partner of the Federation, he said he plans to study at a Jewish college, lead a Jewish life and raise a Jewish family.
"It's all because the Jewish Federation of Cleveland and the Jewish community have stood by me," he said. "I'd like to inspire a Jewish future and help people like me to make sure they end up on a similar path as mine, because it's possible for this to happen."
Farrell also attended the Joseph and Florence Mandel Jewish Day School in Beachwood and received assistance from Bellefaire JCB in Shaker Heights – both supported by the Federation.
David F. Adler, general chair of the campaign, presented Farrell with a siddur (Jewish prayer book) as a gift from the Federation to take with him to Israel "as a reminder of the gratitude this community has for you."
"What inspires you?" is the theme of this year's campaign, and Adler said he was inspired by Farrell's story as well as those of the other four speakers at the event.
Howie Beigelman, executive director of the Columbus-based Ohio Jewish Communities, said his father, Barry, a Holocaust survivor, inspired him to do the work he's doing in supporting Israel and combating the boycott, divestment and sanctions movement.
"The safety of Jews worldwide, including here in America, has never been this threatened in 100 years," he said. "Israel faces an unrelenting assault on its legitimacy.
"The BDS movement (on college campuses) seeks to delegitimize Israel's very right to exist. It's threatening Jewish students' ability to feel safe. That's where the work that happens at the Federation and because of the Federation is so important."
Sara Hurand of Shaker Heights said she's inspired by "creativity and the ability of the arts to help us rise above our challenges and our differences and come together as a people."
Hurand spoke about how she and Rabbi Zachary Truboff of Oheb Zedek-Cedar Sinai Synagogue in Lyndhurst co-founded the Jewish Arts and Culture Lab, a community artists' fellowship program, five years ago.
"The Federation and the Mandel (Jewish Community Center) partnered with us," she said. "We help people be their best whole selves."
Cherie Dubyak of Pepper Pike said her inspiration and what guides her daily is her family. She noted she is the child and grandchild of Holocaust survivors, and that has shaped her identity.
"My husband, Rob, and I are leading a delegation to the United States Holocaust Memorial Museum in November to continue the legacy of Holocaust remembrance and genocide prevention," she said. "None of us should sit idly by and be silent, ever. We must stand up and speak out; we must act."
Duby Rodman lives in Beit Shean – Cleveland's sister city in Israel – where he leads Bridge to the Future, a Federation-supported community development organization.
"Through my work with Bridge to the Future, I ensure that the people of Beit Shean are aligned in their mutual aspiration to make their community stronger, and that these energized community members are able to take more responsibility for their own lives," he said. "They are proud to be part of building the kind of community they want to live in.
"This is the one thing that matters in the end – this feeling of pride, belonging and being part of something bigger than yourself."
Rabbi Joshua Skoff, senior rabbi of Park Synagogue, delivered the invocation.
Campaign donations to be matched
An anonymous source has agreed to fund a campaign match, with a pool of matching funds of $500,000, for the Jewish Federation of Cleveland's 2017 Campaign for Jewish Needs.
At the campaign launch event Aug. 30 at Park Synagogue East in Pepper Pike, David F. Adler, general campaign chair, said all increases in donations to this year's campaign of $1,000 or more will be matched dollar for dollar.
"This is a tremendous opportunity to grow the campaign, to enable us to meet the needs of the community and to address our major priorities," Adler said. "I urge all of you to meet the challenge of the match."
Adler said the 2017 campaign is focused on four priorities:
To leave no one behind;
To safeguard the Cleveland Jewish community;
To support Israel;
To work to ensure a Jewish future.
To make a gift to the 2017 Campaign for Jewish Needs, click here.
---
Related Items