10/20/2017
Campaigner of the Week: Bernie Goodman
Bernie, a long-time Campaigner, got his start as chair of the Federation's attorneys' division. Find out why Bernie enjoys giving back to our Cleveland Jewish community and doing his part in the Campaign for Jewish Needs.
Q - What inspires you to be a Campaigner?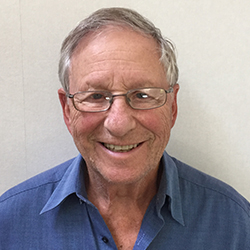 I became involved in the Campaign in my early years at Benesch Law. I became the chair of the attorneys' division, and have continued to request gifts every year from many lawyers, even though I retired from Benesch and the practice of law in 2010. I tell all of my contacts the importance of the Campaign to our Cleveland Jewish institutions and to the Jewish people all over. I encourage them to maintain or increase their gifts, including those who are retired, as I am.
Q - Why is it important for you to campaign?
Cleveland is a unique Jewish community. Whatever the need, the Federation and the leaders get involved. We welcome everyone to our community, including many from faraway places. We care about them and soon, they realize we are all one family.
Q - What do you enjoy doing in your free time?
After retirement, I am no longer authorized to practice law but still keep busy. Happily for me, Benesch has allowed me to keep an office and an assistant so I go there every week to work on various projects. I don't really have much free time because in addition to acting as a trustee and consultant, I organize a golf game here and in Florida for friends and play a couple of times a week. I also exercise often and play duplicate bridge with my wife, Susie!
---
Related Items