09/06/2018
Campaigner of the Week: Harvey Sass
Meet Harvey Sass, our Campaigner of the Week!
Why is it important to be a Campaigner?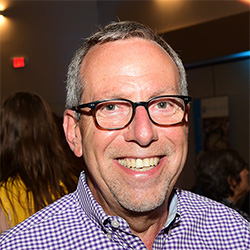 It's important to be a Campaigner because as wonderful and hard working as the Federation staff are, they can't do it all without our help. And because friends asking friends is the most powerful way to unite us all in making the campaign successful. When my family and I moved to Cleveland 13 years ago, a friend introduced me to the outstanding work Federation does in our community. We still get together for coffee every year and discuss both the accomplishments and the challenges that still need to be addressed.
Q - Why should the community become involved with the Federation?
Federation unites our entire community to allow us to create much greater impact than would be possible individually. Through Federation we ensure that the organizations and institutions that we value so highly remain strong and can continue to serve us, our neighbors and Jews around the world. In the future, I envision a diverse, proud, and caring Jewish community flourishing in a thriving city.
Q - What is a fun fact about you?
Many people might not know I'm a "Million Miler" frequent flyer on United Airlines. With those miles, I enjoy traveling, hiking, going to concerts, and spending time with family and friends.
---
Related Items