10/09/2018
Campaigner of the Week: Larry Mack
Meet Larry Mack, our Campaigner of the Week!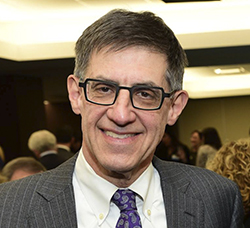 Q - Why is it important to be a Campaigner?
I feel being a Campaigner is essential. Without Campaigners, there is no Campaign for Jewish Needs. The face to face campaigning is the most effective way to reach our community. It was instilled in me at a young age; my parents were long time Federation givers, and the need to give and support a federated Campaign was discussed at home. When I came back to Cleveland after graduate school, I was asked to get involved with Young Business and Professional, and the rest is history.
Q - Why should the community become involved with the Federation?
Federated giving is the best way for the community to support our local beneficiary agencies as well as Israel and 70 countries around the world. The Federation's Campaign does the work of raising the money and donations coming from individuals and others that the individual agencies might never had been able to crack on their own. Individual donors don't have to investigate each agency – that is done for them by the Federation. Jewish Cleveland will continue to be strong as long as we continue to get younger generations involved in the community. They are the lifeblood for the future.
Q - How do you spend your free time?
I recently returned from Israel after organizing an interfaith trip for some of my friends. This was an eye-opening experience for me and for them – and a trip to Israel unlike any other. Outside of my passion for travel, I enjoy running and exercising. I am also involved on a number of non-profit boards in and out of Cleveland.
---
Related Items