10/09/2017
Campaigner of the Week: Sue Borison
Find out why Sue is passionate about our Campaign for Jewish Needs and paying it forward, so future generations can thrive. "Together, we empower and enable the visionaries at Federation to change the world. Who wouldn't want to be a part of that?"
Q - Why is it important to be a Campaigner?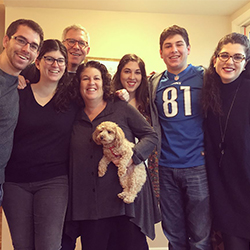 When I moved to Cleveland 30 years ago, I wanted to get involved in the Jewish Federation of Cleveland. I said yes to everything except solicitations. My mantra—I'll do anything except campaign. Over the years, I found myself stunned by Federation's power to impact so many organizations and groups and individuals in multiple countries and locally. Despite my protests, I began to ask people to become part of this positive powerhouse with a pledge, big or small. Over and over again, I saw the strength in aggregating all of our gifts. Together, we empower and enable the visionaries at Federation to change the world. Who wouldn't want to be a part of that?
Q - How did you become a Campaigner?
I became Women's Philanthropy Campaign Chair two years ago. Hedy Milgrom asked me to think about what mark I wanted to leave. The obvious answer, I wanted to raise more money from more donors. But I also wanted to widen the circle so that people who were soliciting donations or making their own gifts would understand the impact of their participation. A Chai gift ($18), a Lion Gift ($5,000), or a Founder Gift ($100,000) all combine to perpetuate this model of 'federated giving.' Regardless of individual capacity, each one of us joins in Jewish acts of loving kindness. We're all a part of building this Jewish community for today, tomorrow, and for future generations.
Q - What does the Campaign for Jewish Needs mean to you and Jewish Cleveland?
The Campaign for Jewish Needs is an opportunity for everyone to feel like they belong to something larger than ourselves. The whole is greater than the sum of the parts. But that's on the giving side. How about on the receiving side? We are all beneficiaries. Whether we send our kids to Jewish day school; participate in Jewish camping; join the JCC; have aging relatives in Menorah Park; send a teen on a trip to Israel; travel on a Federation mission, and countless other opportunities, we are beneficiaries of Federation. I see today's involvement as a "Pay-It-Forward" campaign so that my children and future generations can continue to both benefit from and give to the Cleveland Jewish community and the Jewish world at large.
---
Related Items