09/14/2023
Caputo's Son Reflects on Kol Israel Fall Memorial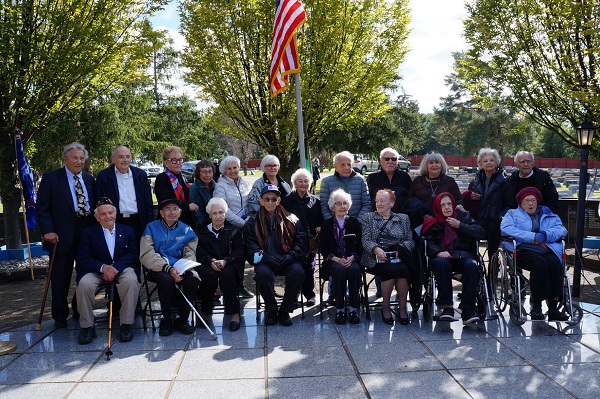 ABIGAIL PREISZIG | CJN
Article reprinted with permission from Cleveland Jewish News
As the community plans to gather for the Kol Israel Foundation Fall Memorial, Michael Caputo recalls the impact the event had on him.
At the 2022 anniversary of the Kol Israel Foundation Holocaust Memorial, he spoke on behalf of his father, Charles Caputo, whose name was added to the monument. Charles Caputo was honored as one of the first educators in Ohio to create Holocaust education programming.
"It was a touch overwhelming, very moving and a really powerful event," Michael Caputo, a Beachwood resident, told the Cleveland Jewish News on Sept. 11. "To tell you the truth, I didn't know how beautiful that memorial was."
Charles Caputo, a Catholic who was an educator at Berkshire High School in Burton for 30-years, organized a program, housed at Sinai Synagogue in Cleveland Heights through a partnership with Rabbi Isidore Pickholtz, that facilitated a yearly seminar for high school upperclassmen starting in 1970.
Additionally, he would take students to a synagogue, Passover and teach through special projects, Michael Caputo recalled.
"He was a little bit disappointed that it was always Jews teaching the Holocaust because he felt that it was a Christian problem and he wanted to educate people on failures in our society that allowed that to happen," said Michael Caputo, who attends Fromovitz Chabad Center in Beachwood.
At the 62nd memorial anniversary from 11 a.m. to 12:30 p.m. Sept. 24 at Zion Memorial Park in Bedford Heights, Bedford Heights Mayor Fletcher Berger, will be honored for his role in getting the Kol Israel Holocaust Memorial national memorial status.
"It's a huge honor," Hallie Duchon, Kol Israel Foundation executive director, told the CJN Sept. 11. "It means that we're protected, it means that we're validated, it honors our ancestors and everything they had to endure. Our memorial isn't just significant to the Jewish community, but to the greater community as well. There are lessons to be learned behind what the memorial stands for."
The memorial was signed into national Holocaust monument status in December 2022 by President Joe Biden. It is the first Holocaust memorial in the United States to earn national memorial status.
The designation is important in keeping the memory of the Holocaust alive as survivors age and fewer can attend the event and tell their story each year, Dan Zelman, Jewish Federation of Cleveland board chair, told the CJN on Sept. 11.
"I think it's important that the memorial receives the designation that it has, and I think it's important to keep the memories alive so that future generations don't let this happen again," said Zelman, a Moreland Hills resident and congregant of Park Synagogue in Pepper Pike.
At the fall memorial, about 300 individuals will gather to remember the 6 million Jews who perished in the Holocaust, according to Duchon, a Solon resident.
"It seems to grow every year, which is really exciting for everyone," she said.
The event includes a candle-lighting ceremony honoring Holocaust victims, liberators and Righteous Among the Nations; remarks from the community, religious, Kol Israel Foundation and Federation leaders; psalms and songs; prayers for the departed; and a celebration of the memorial as the first national Holocaust memorial in the country, according to a news release.
Created by Kol Israel members in 1961, the Kol Israel Foundation Holocaust National Memorial is dedicated in remembrance of the attempted genocide against the Jewish people by Nazi Germany during World War II. Human remains, ashes and artifacts reclaimed from three concentration camps are buried beneath the monument.
"For 62 years, this memorial has provided a sacred site for people to say kaddish for their loved ones who perished in the Shoah and have no known final resting place," Duchon said in a news release from Kol Israel. "It is a place that is cherished by survivors, their families, and community partners alike."
The event is hosted by Kol Israel Foundation and the Jewish Federation of Cleveland.
---
If You Go
WHAT: Kol Israel Foundation Fall Memorial
WHERE: Zion Memorial Park, 5461 Northfield Road, Bedford Heights
WHEN: 11 a.m. to 12:30 p.m. Sept. 24
REGISTRATION: Registration is free. To reserve a spot, visit bit.ly/44HZ1sE.