03/14/2016
Celebrate 20 Years with Our Sister City
Celebration Marks 20th Anniversary of Cleveland's Partnership with Israeli Sister City
Israeli Public Officials to Attend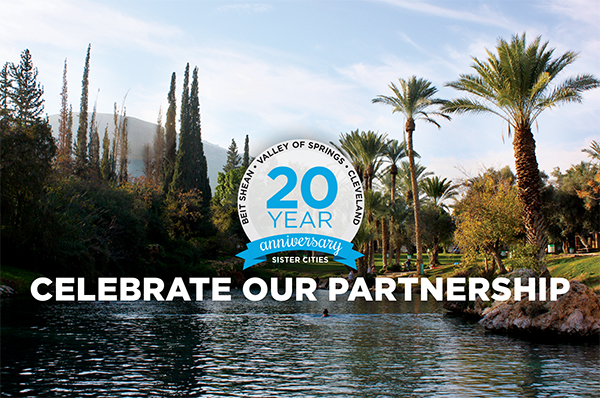 CLEVELAND – The Jewish Federation of Cleveland is proud to announce a historic celebration marking a 20-year partnership with its sister city of Beit Shean and Valley of Springs, Israel. The event, Celebrate our Partnership, will explore the incredible impact Cleveland has had on its sister city and how residents from both communities have created personal, powerful bonds. All are invited to attend and experience the connection through live music by HaZamir: The International Jewish High School Choir, a theater performance by Playmakers Youth Theatre, stunning images from local photographers, plus speeches by public officials, honoring of past chairs, and more. The event takes place on March 30 at 7 p.m. at the Mandel Jewish Community Center (26001 S. Woodland Road, Beachwood).
"This is a historic occasion for Cleveland. For the first time, the current mayors of Beit Shean and Valley of Springs are coming here together, and we are honored they will join us in celebration," said Barbara Leukart, Beit Shean Subcommittee Chair.
While the mayors will come to Cleveland for the first time together, many other residents from Beit Shean and Valley of Springs have come to Cleveland before. By bringing Israelis to Cleveland, the Federation provides Clevelanders with the opportunity to build a connection to Israel without leaving home.
In recent years, entrepreneurial cooks from the region were greeted by over 400 local guests who sampled ethnic foods while learning about the area's diversity and multi-culturalism, as part of the Federation-supported programs in Beit Shean, which aim to improve community life. Through skill-building initiatives, the people of Beit Shean are working to build businesses in the hospitality industry to turn the region into a tourist destination. Cleveland is there to help.
Michal Soclof, immediate past Chair of the Beit Shean Subcommittee said of the cultural exchange, "They enrich our lives in Cleveland and we offer them training that is not available in their region. It's a wonderful relationship for everyone."
Relationships have also been built between young people from both communities. Shin Shins (Israeli Emissaries) from Beit Shean have come to Cleveland in recent years to work in schools and community centers, teaching about life in Israel. "I always knew when Yuval visited my daughter's pre-school," said one young mom. "She would come home asking when we would fly on a plane to Israel."
Just as young people from Beit Shean visit Cleveland, young Jewish Clevelanders learn about and visit Beit Shean through Federation-supported programs like israel.cleveland.next, educating high school students about Israeli culture and society.
In fact, each year an estimated 500 to 600 Clevelanders travel to Israel and visit Beit Shean on their own or through Federation-supported programs, missions, and volunteer travel experiences.
Older adults also have a unique opportunity to volunteer with Federation-supported programs in Israel through Volunteer Beit Shean, where they immerse themselves in Israeli life while volunteering in the community and enjoying home hospitality. The experience can be transformative. Many volunteers elect to teach English to Israeli students.
Helping at-risk youth and their families succeed in Beit Shean is a Federation focus. Through Youth Futures, over 200 children and their families are mentored each year and given tools to make positive changes in their lives.
"We have helped empower the people of Beit Shean and Valley of Springs to transform their own lives," said Bobby Goldberg, the first chair of the Beit Shean Subcommittee. "The relationship we've built is very meaningful and has evolved and grown over time. Our involvement in Beit Shean has done as much for Clevelanders as it has for people in Beit Shean."
Leukart, who just returned from Beit Shean said the celebrations in Israel had already begun. "Over 400 people came to celebrate our accomplishments. We now look forward to welcoming our friends from Beit Shean in Cleveland."
Cost is $8/person pre-registered and $10/person for walk-ins; ages 18 and under are free. To learn more or register for Celebrate Our Partnership, please visit www.jewishcleveland.org, or contact Sally Levine at 216-593-2843 or salevine@jcfcleve.org.
---
Related Items