03/09/2017
Celebrating International Women's Day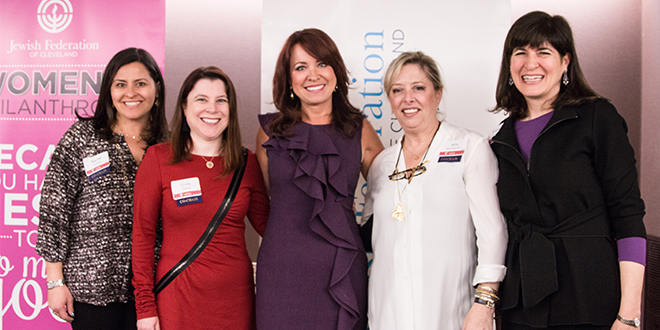 A great way to celebrate International Women's Day! Thank you to the 150 exceptional women who joined us to step into their best self at the Jewish Federation of Cleveland's "The Women's Forum: Embracing Courage, Resilience, & Gratitude."
Featured speaker Dr. Lori Stevic-Rust, author of Put on Your Big-Girl Shoes, inspired and empowered the room. She showed us what "having it all" really means, revealing that when women step into their big-girl shoes, they can tap into their own personal power.
To learn more from Dr. Lori's experiences and expertise, you can purchase her book online.
Following Dr. Lori's presentation, women dived right into the heart of the evening's hot topics with small group discussions: What are some issues you may be facing? How does gratitude breed resilience? How can we support each other? It was incredible to see how these conversations allow us to feel and think differently.
A very warm thanks to our Event Chairs Rebecca Bar-Shain, Rachel Feinlieb, and Cindy Chaiten – who shared her own personal, powerful story about her decision to count the Omer, her blessings, during a time when resilience and gratitude was more important than ever.
Thank you to Women's Philanthropy Outreach & Engagement Chairs Amy Wain Garnitz and Adena Klineman, and Women's Philanthropy Chair Jennifer Korach. And, thank you to all of our guests for joining us!
View photos from the event on Facebook.>>
---
Related Items