01/01/2016
Celebrating the Life of Harry Blum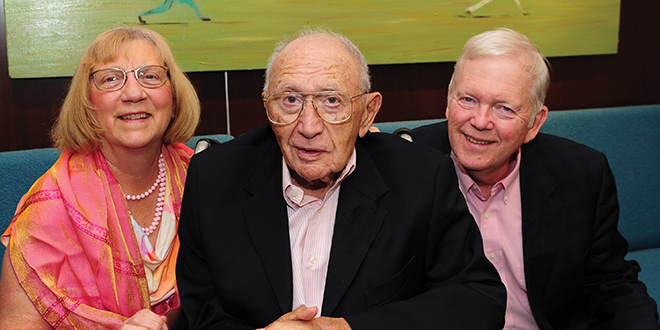 by Carol Wolf
You probably didn't know Harry Blum z"l. He wasn't famous or exceptionally wealthy, but his generosity will make a difference in our community for years to come.
Harry understood the importance of tzedakah during his lifetime and gave generously to Jewish and general charities. But he did more – he also created a lasting Jewish legacy during his lifetime. With a Charitable Gift Annuity at the Federation, Harry received guaranteed income for the rest of his life and his legacy lives on with the Harry Blum Memorial Endowment Fund, the result of his gift annuity.
Harry's Story
Harry was 95 years old when he died peacefully on December 16, 2015, in the Mentor home of Mary and Joe Sanders, his adopted family – best friends with whom he had lived for the last 24 years.
"Harry was a real mensch" shared Joe. "He inspired us and everyone who knew him to think of others, be grateful , and give back to the community."
Born and raised in Cleveland, Harry graduated from The Ohio State University, then served in France and Germany during World War II. He survived the Battle of the Bulge and received the Bronze Star. During combat, Harry used his mathematical ability to figure the trajectory of shells, and while instructing others discovered that he loved teaching.
When he returned home, he earned a Master's degree in Education from Western Reserve College and began his career in Cleveland's public school system, starting out as a guidance counselor and ultimately serving as a Principal for nearly 30 years.
Giving Back
Harry saw the disadvantages his students faced and wanted to continue helping them after retirement. He volunteered for over 20 years at the University Settlement, a neighborhood center that provides social services to residents of southeast Cleveland. He served in every capacity including Board Chair, pitching in with any activity that would help the kids. It was there that he met Mary Sanders, the Settlement Director, and a long friendship began with her entire family.
A Jewish Lens
Harry held Judaism and the value of tzedakah close to his heart. He taught religious school at The Temple Tifereth Israel, cherished his two trips to Israel, and gave generously to Federation's Campaign for Jewish Needs.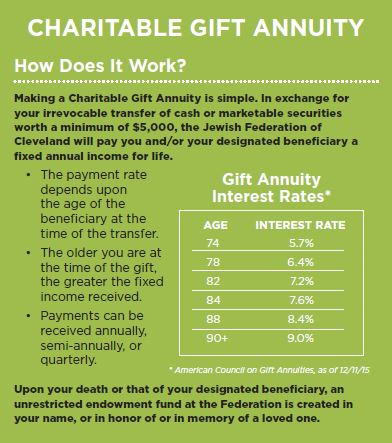 I visited Harry in his home with the Sanders' to thank him for his insightful legacy gift. Each year I shared how his gifts made a difference and explained how his gift annuity would support the community's future through the Endowment Fund. He was happy to learn that by supporting the Campaign for Jewish Needs, he was supporting his beloved Cleveland school children through the Public Education Initiative and Winter Lunch Program.
Harry's Legacy
Harry wanted his tzedakah to extend beyond his lifetime, and for him the best choice was the Charitable Gift Annuity.
Harry's legacy lives on in the lives of the people he touched, including me.
In addition, his gift to the Federation's Endowment Fund will continue to support the Jewish and general community that he loved in Cleveland, Israel, and around the world.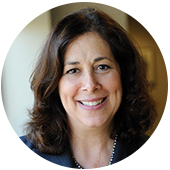 Meet Carol Wolf
For more information, contact Carol F. Wolf at 216-593-2805 or cwolf@jcfcleve.org.
---
Related Items