05/20/2015
Cheesecake for Shavuot
Kosher Nutritious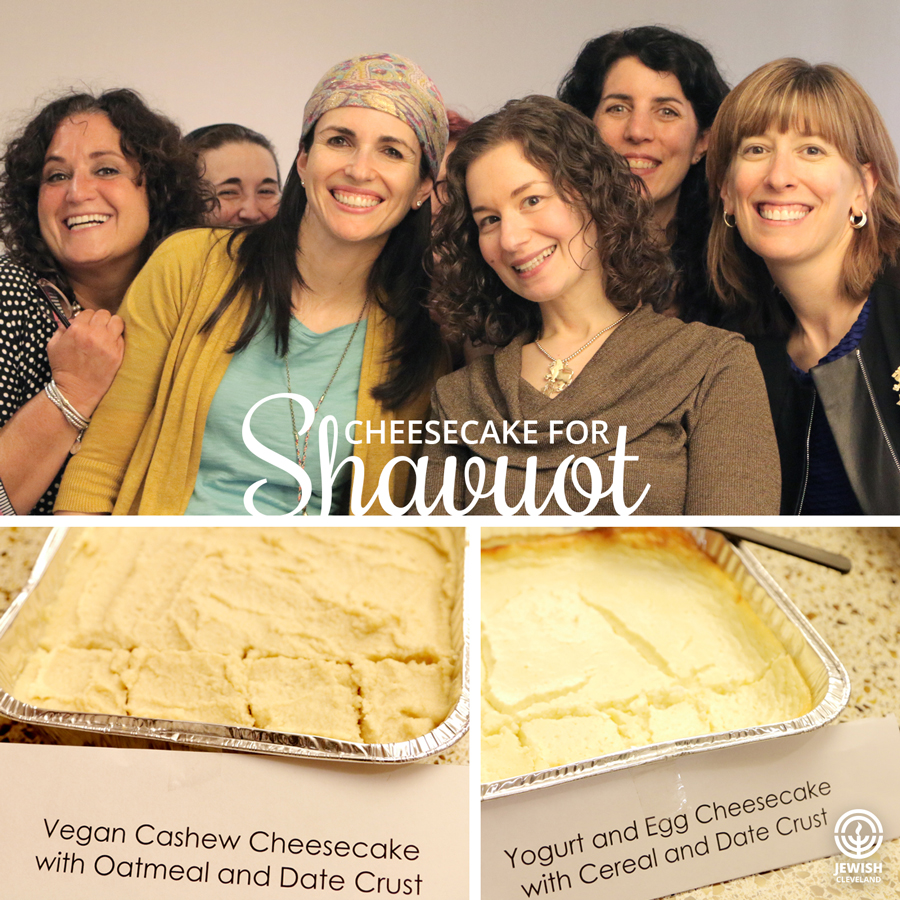 by Caroline Sharvit
Shavuot, which begins on the evening of May 23, is also known as Chag HaBikkurim, which celebrates the season's harvest of its first and best fruits. In ancient times, farmers would tie reeds around the first ripening fruits and grains in their fields. The designated produce, called bikkurim, was harvested upon ripening. Following harvest, the farmers made a pilgrimage to the Temple in Jerusalem for Shavuot where each farmer presented his bikkurim to a priest. During the presentation ceremony the farmer thanked G-d for his sustenance provided by nature.
Although we no longer have a Temple in which to offer bikkurim, many farming kibbutzim in Israel parade newly harvested produce and new-born livestock in recognition of this ancient practice.
We can emulate the mitzvah (good deed) of bikkurim in our homes by bringing what we know to be the best food for us – food provided by nature - to our tables.
A delicious Shavuot tradition is eating all manner of dairy products, most notably cheesecake. What is the connection between dairy and Shavuot? Explanations abound, but in keeping with my theme of nourishment through nature, I propose the following explanations (adapted from Rabbi Baruch Erdstein and Nechama Dena Kumer at AskMoses.com).
First, milk is a Kabbalistic symbol of purity, and the Israelites were required to attain a certain level of purity before receiving the Torah on Shavuot. In celebrating our acceptance of the Torah at Mt. Sinai, we acknowledge that the Torah was given to us with love, generosity, and compassion, much like a mother treats her child according to these values. Lastly, just as mother's milk provides the nourishment that a baby needs to thrive physically, the Torah is the nourishment G-d provides for us, his children, to thrive spiritually.
So, Cheesecake. It's a dessert that is notoriously unhealthy. First, consider that most cake crust recipes call for regular margarine which contains artery clogging trans fat. Furthermore, traditional cheesecake is typically loaded with saturated fat, cholesterol and sugar, and is a stumbling block for those trying to practice healthy eating habits.
If you want to follow the traditions of Shavuot and serve cheesecake, but without the cholesterol and trans fat and much lower levels of saturated fat normally associated with it, then follow these Kosher Nutritious recipes.
I like to experiment in my kitchen, so I made four types of "healthy" cheesecakes. My friends at the Federation graciously volunteered to help me out and determine which ones tasted best.
The runner-up is a vegan cheesecake made from cashews. This recipe is perfect for those following a vegan, lactose free and/or gluten free diet. Bonus: It actually tastes like cheesecake! Cashews are high in heart healthy mono-unsaturated fat and contain no cholesterol. One caveat: like all nuts, cashews are quite caloric, so make sure to keep portion sizes in check. I encourage people to serve desserts in individual mini serving dishes to prevent over-eating. A mini 2oz. disposable wine glass is a beautiful and practical way to serve a calorie heavy treat.
A few moments captured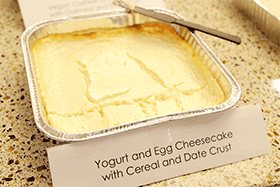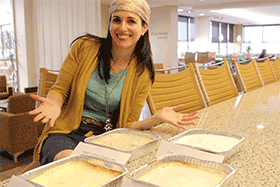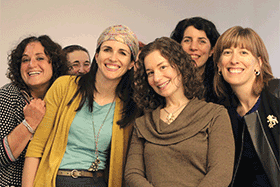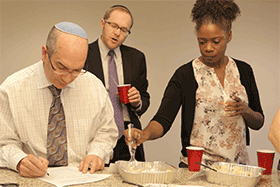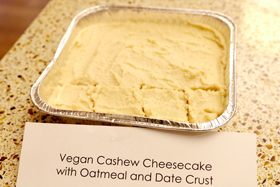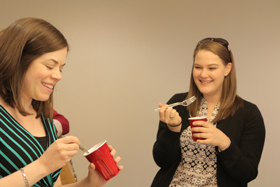 Date Crust
Ingredients:
6 dates, pitted and soaked in hot water for about 10 minutes until soft, then drained well
1 c. (gluten free) rolled oats
¼ c. flax meal
2 tbsp. Earth Balance margarine (contains no trans fat!)
⅛ c. almond milk
Directions:
Combine all ingredients in a blender fitted with metal blade.
Blend until ingredients come together to form a ball.
If needed, add more almond milk 1 tsp. at a time until dough unifies.
Use a metal spoon and press into pan.
Cashew Cheesecake
Ingredients:
2 c. raw cashews, soaked in water overnight, then rinsed and drained
⅓-½ c. maple syrup - start with ⅓ c. and taste after blending. Add more syrup if needed, but you should not exceed ½ c.
juice of 1 lemon
5 tbsp. Earth Balance margarine
½ tsp. sea salt
Directions:
Place all ingredients in blender fitted with metal blade and blend until smooth.
Pour over crust and smooth with a knife, if needed.
Refrigerate several hours until set.
Greek Yogurt Cheesecake
Ingredients:
2c. non-fat plain Greek yogurt (I like Trader Joe's brand)
½ c. sugar
2 eggs
2 tsp. vanilla extract
Directions:
Preheat oven to 350.
Blend ingredients together in food processor until smooth.
Pour filling over crust and bake in oven for 30-35 minutes. The edges should start to pull away from the sides of the pan.
Chill in fridge for several hours before serving.
First place was awarded to the dairy cheesecake with a twist. This dessert was made with non-fat Greek yogurt, instead of cream cheese, making it much lower in calories and fat relative to more traditional recipes.
---
Wishing you a wonderful, healthy and nutritious Shavuot!
Whether the motivation is weight management, athletic performance or disease management, clinical nutritionist Caroline Sharvit helps clients incorporate their food preferences within the framework of a healthy food plan and promotes long term strategies aimed at achieving weight and wellness goals..
Caroline holds a Master's Degree in Clinical Nutrition from New York University, and is a Registered Dietitian Nutritionist and a member of the Academy of Nutrition and Dietetics.
She provides nutrition counseling for children and adults through Tree of Knowledge, an educational services provider in Cleveland, Ohio.