12/23/2016
Chesed Center Prepares for Chanukah
Cleveland Chesed Center Prepares for First Chanukah
Article reprinted with permission from Cleveland Jewish News.
By Amanda Koehn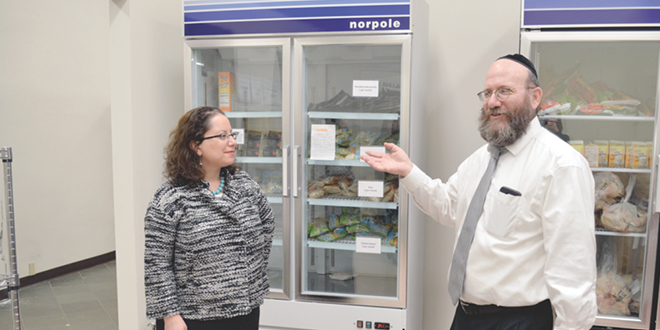 The Cleveland Chesed Center, a kosher food bank in Cleveland Heights that looks more like a Costco than a food pantry and also offers clothes and furniture, came about after the Jewish Federation of Cleveland and community members saw a troubling statistic about poverty rates in the area. Now, after opening in March, the Chesed Center is preparing for its first Chanukah and reflecting on nine months in service.
In 2011, the Federation conducted a population study, which found 19 percent of Jewish households in Greater Cleveland have incomes below 200 percent of the federal poverty standards (which was $22,000 yearly for a single-person household in 2011 and varies based on the number of people in the home). For context, families who bring in this level of income or below often qualify for some form of government assistance.
"It is an unfortunate reality that a significant number of Jewish families in our community are forced to make difficult choices every day between putting food on the table and paying for basic living expenses like housing, prescriptions or car repairs," said Bruce Goodman, vice chair and past chair of the task force on financial distress for the Federation.
While the statistic was not shocking to the Federation, it did signal a need for change.
"We work closely with organizations like Jewish Family Service Association, so for our colleagues who are on the ground, it reinforced what they were already seeing in the trenches, that there is a lot of need," said Shelley Fishbach, assistant managing director of community planning and allocations for the Federation. "The economy has gotten better, but a lot of people really haven't recovered their income."
To help combat these persistent community issues, community stakeholders came together with the Federation and decided to open the Cleveland Chesed Center last March. It has served 250 families thus far, and serves about 150 families monthly.
Chesed Center director Rabbi Avrohom Adler showed off the pantry space, pointing to the different frozen foods, personal care items, clothing and furniture that make it more elaborate than many food pantries. As people shop, they use carts, which feeds into the idea that food pantry recipients should be able to shop like they do in any other store.
Adler said many types of people benefit from the Chesed Center – including medical students, Talmud students, people who are underemployed and the elderly – and many give back as well.
"We are finding that our biggest source of volunteers are our clients. They would like to give back," Adler said.
The Chesed Center prides itself on being a "choice" pantry, where people can select from a range of foods, including many that are protein rich. Also, because the Chesed Center purchases some of its foods, rather than receiving it all from the Greater Cleveland Food Bank, they are able to select healthy and desired items.
"People that are in need are coming, so therefore, it's successful," Adler said.
Now, the Chesed Center is getting ready for its first Chanukah. Jewish Family Experience volunteers came a few weeks before the holiday and helped pack bags full of chocolate coins, Chanukah notes and dreidels to help children and families celebrate.
Also just in time for the holidays, the Chesed Center ran a coat drive, which Adler called an "unbelievable success," where it collected six coat racks of gloves, boots, coats and other winter wear.
While holiday giving lets local families in need receive some festive items, more people may also need healthy and kosher foods, and in larger quantities, during the holidays and when the weather is bad, for which the Chesed Center is also prepared.
"By providing basic necessities during a rough patch, the Chesed Center relieves some financial pressure, hopefully allowing people to get back on their feet and work toward financial stability," Fishbach said.
Both Adler and Fishbach said although they are pleased at the Chesed Center's success in reaching families in need, it always could help more people.
"Sometimes the people that are in need, they are sheltered and they don't want to disclose their situation to anybody – even to rabbis or teachers. While they may know somebody in need, to actually get that person to come is a difficult task; they have to be comfortable to come, that is our challenge," Adler said. "Are we serving 225 families? Yes. Can we serve more? Probably."
---
Related Items