08/01/2017
Civic Leaders Reflect on Israel Mission
Federation's new civic leaders mission aims to create partnerships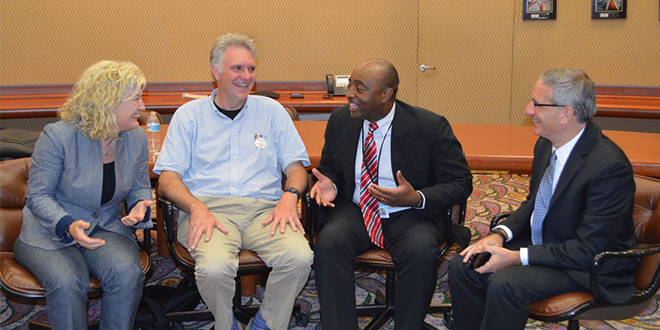 Republished with permission from Cleveland Jewish News.
by Amanda Koehn
Forty Cleveland civic leaders spent a week in Israel in July, as part of a new Jewish Federation of Cleveland trip, where they got a sense of the country and issues shared by Northeast Ohio and Israeli communities.
The biennial Thomas and Joann Adler Civic Leaders Israel Mission began so local civic leaders can learn from Israel's economic, educational and community development, and to create partnership opportunities.
The trip was endowed by Tom and Joanie Adler of Shaker Heights, after they returned from a Federation business leadership trip to Israel and thought nonprofit leaders would benefit from the same opportunity. Joanie Adler said her goal was for the trip to impart cooperation and understanding between the local civic leaders and Israeli counterparts.
"It just sounded wonderful, it sounded just like what we hoped would happen," said Joanie Adler, who did not go on the trip, but plans to go on the next civic leaders trip.
The trip is part of the Federation's community relations committee, which works to strengthen the ties of the Jewish community to the general community.
Brad Schlang, chair of the Federation's community relations committee; Felton Thomas, executive director/CEO of Cleveland Public Library; Chris Ronayne, president of University Circle, Inc.; and Lauren Onkey, dean at the Tri-C Mandel Center for Humanities reflected on the trip in a group interview with the Cleveland Jewish News.
CJN: Why did you want to go on the Thomas and Joann Adler Civic Leaders Israel Mission?
Thomas: I really wanted to see the parallels of things happening in Israel and how they related back to the United States and to Cleveland.
Ronayne: My background is city planning and I'm a lover and explorer of cities, so I really did want to see the modern cities – Tel Aviv and the old city of Jerusalem.
Onkey: I'd never been to Israel so I was immediately intrigued by the opportunities to visit a place that I knew something about, but really wanted to learn a lot more.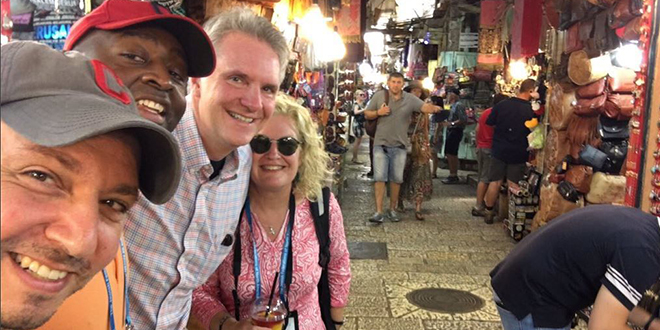 CJN: What were the highlights of your itinerary?
Schlang: The broad scope is we started out in Tel Aviv and we got an idea of the country and the technology – the 'start up nation.' And then we continued around to some day trips to see the Ethiopian connections in Kiryat Gat. And then we went up to Beit Shean (Cleveland's "sister city") and to the Galilee.
Then we came into Jerusalem and learned a little about the partnership between Arab and Jewish activities and the challenges of the Arab-Jewish relationship. And finally, going down in the south and to experience that and to relax after a full week.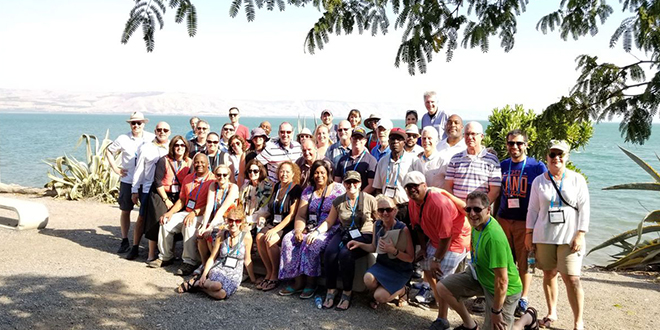 CJN: What were your takeaways from the trip, both in terms of network/civic leadership development and the country?
Ronayne: There are some striking similarities (between Israel and Cleveland) in terms of cultural conflicts and hope for resolution, particularly when you look at Cleveland issues of poverty, issues of race, gaps in achievement and education and what puts youth at risk. And I think there were some lessons that could be applied here. We had a very open discussion with a teacher who was Muslim-Arab and she kind of gave us an honest account of the challenges, and the translation for me came back to the work, particularly in cultural connections and bridge-building between minority communities in Cleveland.
Schlang: It really was the people. Our last day in Jerusalem, I was just looking around the room and as much as we work for diversity in Cleveland, I've never seen such a diverse group. To have Jews, African-Americans and Latinos just having a great time together was a wonderful finale to the trip. That's what we now need to continue here at home and broaden beyond the 40 in each of our communities.
Onkey: I think as a leader, I observed the kind of commitment to the community that I saw, and that made me think of the Federation's role as well in philanthropy, in building museums and educational institutions and having the kind of commitment to take a long view on things. The work is hard if you really want to change a community or grow something new.
CJN: Was there any single experience that really exemplified that?
Onkey: Maybe Yad Vashem (The World Holocaust Remembrance Center). When you exit the museum and you look out over Jerusalem, you are truly seeing a miracle, I think, based on what you've just kind of experienced in terms of the story of the Holocaust. So that was really a moment where I thought about what it takes to end up with a museum that can tell that story in a way that feels triumphant, almost, out of horror.
CJN: Obviously there are some complicated geopolitical issues in Israel. Did you go with any preconceived notions, and after the trip, did anything change in your mind or do you have any conclusions?
Thomas: (Before the trip) I would see people discuss it, (and they) would look at it as Israelis and Palestinians, being very similar here to whites and African-Americans, and see it just as black and white. Having been there, it's much more complicated and it's much more difficult to see it in that manner, because that's not the way it is. A woman who was Palestinian said to a group of us that what she would want for the future is, '… freedom to move throughout my community without having someone tell me when I can move and when I cannot.' In many ways, there's that same experience of African Americans that they feel that the police have.
There is a similarity there. But when you get deeper into the religion, those things are much more complicated than you find in the African-American white dynamic. It's thousands of years that you are dealing with compared to what we are dealing with here. I'm still working through that. I told people I will be reading books for the next ten years.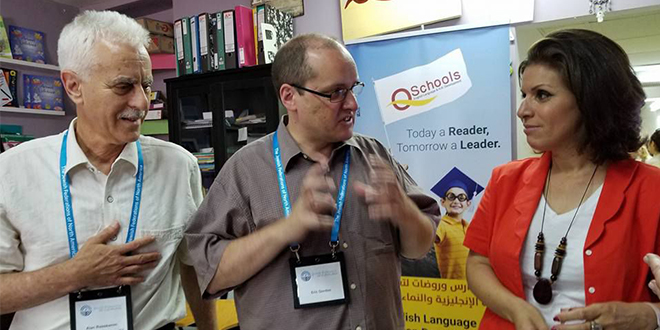 CJN: Brad, you've been to Israel before – what was it like going with a group that was largely not Jewish compared to going with Jewish groups?
Schlang: I would describe this trip as, when you think of Israel, you can think of it as this religious place – the birthplace of the three major religions. And you can think of it as this place of the Middle East conflict, but really what this trip was about is Israel's just a country. So this really wasn't a trip to the Jewish homeland, this was a trip to a place that on scale, we can address the similarities with Cleveland.
CJN: Is there anything specifically you hope to implement back home as a result of the trip?
Ronayne: (At a museum about the history of Beit Shean) they had this room that was essentially a family photo album (of people in the community) and it made me think there are communities in Cleveland that really share history, but are disconnected by the decades. And you could look at so many communities in Cleveland and have a conversation about the history of the neighborhood through the lens of people talking about their families. I thought as a takeaway, we could start a conversation about the communities that have been in neighborhoods.
Onkey: For me one of the big things was thinking about how do we make international travel a reality for our Mandel scholars at Tri-C.
Thomas: One is (working with Western Reserve Historical Society) to archive this trip. Second, is formalizing a relationship between the Beit Shean's library and us.
---
Related Items