04/02/2018
Cleveland Hosts Jewish Communal Professionals from St. Petersburg
Republished with permission from Beachwood Buzz.
by June Scharf
The Jewish Federation of Cleveland played host in February to a delegation of 21 top Jewish communal professionals from Cleveland's sister city of St. Petersburg, Russia. Close to 20 years ago, Cleveland entered into a strategic partnership with the Jewish community of St. Petersburg to help sustain and renew Jewish life. The purpose of this visit was to learn how to utilize lay leaders as partners to set community priorities and meet current and future needs, a novel concept to those in Russia. The gathering also permitted the exchange of ideas concerning leadership, culture, politics and things both lofty and mundane.
A central component of the visit was the role played by host families, several of which were located in Beachwood. They included Susan and Michael Hyman, Estra and James Grant, and Allison and Rick Schultz.The gathering of all participants culminated with a dinner at The Temple-Tifereth Israel, catered by Yuval Rub Caterers, based in Beachwood.
One immediate reaction Estra Grant had to her house guests was a feeling of familiarity due to the Jewish bond. "It felt like we had things in common," she notes. "We share similar values, and we said prayers together." She also was struck by how well her guests, Orit Svetlana Zuaretz and Svetlana Vulfovich, spoke English. Orit serves as the Head Representative in St. Petersburg and Northwest Russia for the Jewish Agency for Israel (JAFI), and Svetlana is the JAFI Coordinatorfor Formal Education in the Northwestern Region.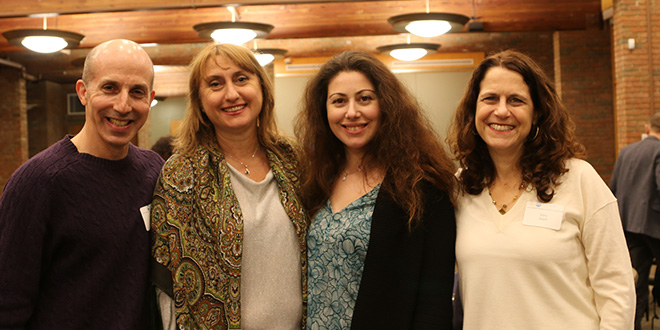 The Russian women revealed that there are roughly 100,000 Jews living in St. Petersburg, and the JCC there has 5,000 members. Russia has three other JCCs located in Moscow, and Kiev and Odessa, Ukraine.
Estra reports that another beneficial aspect to serving as a host was the exposure it offered her daughter Zoe, a senior at Beachwood High School. "It's good for her to meet people from foreign countries and, in this case, to hear how dedicated people can be to their Judaism in Russia. They really are passionate."
James says that the conversations he had with his guests related to concepts that were new to their clientele: tzedakah (philanthropy), volunteering and paying for programs. What he learned related to the unique circumstantial challenges Russians face, such as dealing with Russian authorities.
"They don't want to appear to be too successful or too high profile because the authorities might begin to make things difficult," James explains. There is a lot of bureaucracy involved with simple arrangements, such as moving to a new office, he adds. The Russians have a vibrant diaspora that is limited by the reach of government and culture, he also notes.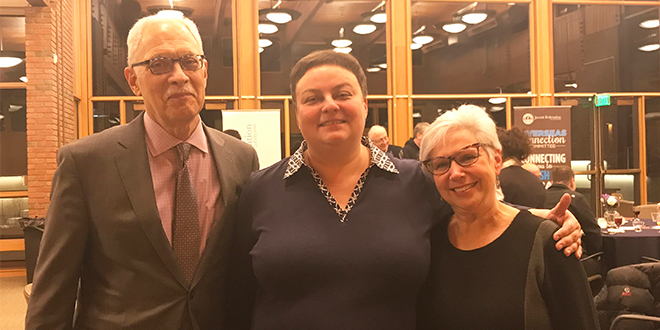 Michael Hyman says that his guest, Masha Aryeva, the director of St. Petersburg JCC, felt like family because in addition to working together for many years, Masha stayed in their home last year, and they had visited Masha a few years before, in St. Petersburg. While kibbitzing with her over a home-cooked dinner, they talked about the arduous task of fundraising and developing volunteer leadership. "For 70 years under Communist rule, Judaism was forbidden in the FSU (Former Soviet Union)," he explains. Now there is a global JCC movement, and many countries benefit from tapping into it, he adds.
Susan Hyman took delight in how much her guest liked her dog, a Cavachon. She also looks forward to visiting St. Petersburg again, but "not in the summer when it stays light until 11 p.m. because it's so close to the Arctic Circle."
Participants who established the networks for Cleveland professionals to support the Russians' work in St. Petersburg and beyond say they believe their goal was accomplished.
---
Related Items