03/23/2018
Cleveland, Israeli Tech Leaders Talk Women in STEM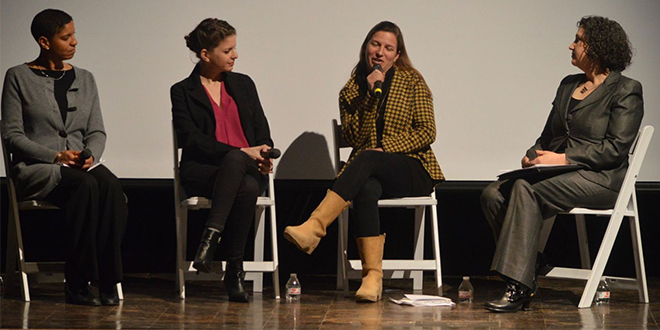 Article reprinted with permission from the Cleveland Jewish News.
by Amanda Koehn
Women make up more than half of the college-educated workforce in the United States, but hold only 24 percent of science, technology, engineering and math jobs.
In engineering, 14 percent of jobs are held by women. They also see a gender pay gap of $.84 to a man's dollar across all STEM fields.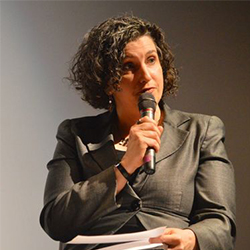 Such statistics by the U.S. Department of Commerce were cited by Kirsten Ellenbogen, president and CEO of Great Lakes Science Center in Cleveland, during a four-woman panel discussion on women in STEM at the Jewish Federation of Cleveland Sidney Z. Vincent Memorial Lecture and community relations committee's 71st annual meeting.
The panelists, who spoke at the Cleveland Museum of Natural History March 20, were Me'lani Labat Joseph, director of engineering at the Leonard Gelfand STEM Center at Case Western Reserve University in Cleveland; Noga Tal, head of global strategic initiatives at Microsoft for Startups in Israel; and Mor Karassin, director of Idan Technology in Israel. Ellenbogen moderated the discussion.
Tal did not want to pursue a STEM career while in college in Israel, but decided she wanted to be part of the "start-up nation's" technology work force about 10 years later. She started out in tech marketing and was surprised by how accessible the field was to one without a STEM degree.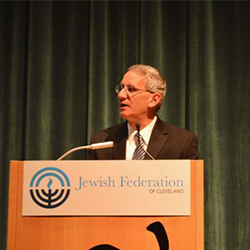 However, Tal also described challenges women face that could impede some from sticking with such careers. While overt sexism exists, unconscious biases and hidden barriers are also pervasive. For example, Tal said women tend to leave college with weaker professional networks than men and it gets worse throughout their career. They also tend to network primarily with other women.
"I, at least once a week at work, (am) tested again and again about my technical abilities and my knowledge in my own profession, and I also hear the same stories from women who are entrepreneurs," said Tal, who lived in Shaker Heights for five years as a youth and attended Shaker Heights High School before moving back to Israel. "If they decide to become a CEO of their own company, it doesn't matter what degrees they hold, when they go for funding from (venture capitalists) they still get a lot of questions about their background, their knowledge, much more so than their male counterparts."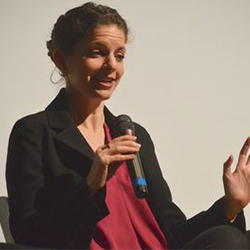 She and Joseph cited the importance of early STEM experiences, support of parents and educators, and a strong network for women looking to build careers in the fields. Joseph noted further challenges for women of color to succeed in tech fields.
"When I'm going to meetings, I'm often one of one or two brown faces around the table, and so there's a lot of assumptions, unconscious bias that I can feel when I walk into a room," said Joseph, who runs pre-K to 12th grade STEM outreach programs at CWRU, after initially pursuing a career in engineering.
She added, "People of color have to be exceptional … you've got to have your core academics and your knowledge and the information down. That's non-negotiable … and then you have to have the ability to cope with on a daily basis, maybe hourly basis, of people doubting you and questioning why you are at the table."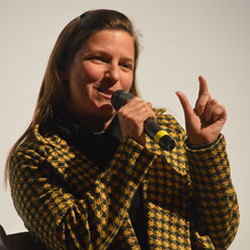 Tal said women often are perceived as either "likable" or "competent," but not both.
"For myself, it's been a long journey of giving up likability, I'm not there yet," she said, advising that women take feedback that's critical of them in stride and let go of the "dream that everyone is going to like me."
Karassin told her story of attempting to build a tech career with a further barrier – living in the Valley of Springs, where her family chose to reside, far from Israel's tech hubs. Now managing educational components of Idan Technology Center, near her home, she gave advice for girls and women looking to pursue STEM.
"First, you have to try," she said. "And the second thing is you probably will fail, but try again, you probably will do much better after you fail. Third, you have to do everything you imagined with your two hands."
The discussion was attended by 152 people and kicked off the Federation's "Israel at 70" event series.
Ellenbogen gave a "call to action" for audience members to hold companies where they work accountable for hiring women.
"Start actually tallying the numbers – what percent of the applicants were female on a position, what percent were interviewed and was the job awarded to a male or a female?" said Ellenbogen, who is a member of Anshe Chesed Fairmount Temple in Beachwood.
---
STEM educators mission to CLE
Mor Karassin, director of Idan Technology, is in the Cleveland-area as part of a Jewish Federation of Cleveland Israeli delegation for science, technology, engineering and math educators. The 15 delegates are spending eight days learning with experts from Cleveland. Several delegates are from Beit Shean, Cleveland's sister city in Israel, and it marks the first time the Federation has held such a mission.