09/19/2016
Clevelander Helps Rebuild Baton Rouge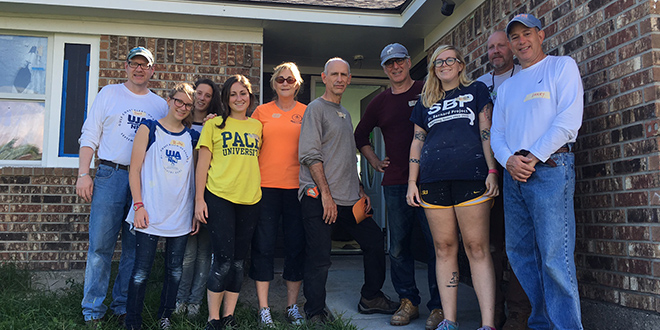 Jewish Clevelander Ron Goldstein recently traveled to Louisiana on an IMPACT! Volunteer Mission for adults 50+, with his sights set on helping to rebuild New Orleans, 11 years after Hurricane Katrina. However, when Baton Rouge was hit was devastating floods, Ron and his group quickly rearranged their schedule to go where help was needed. This is Ron's story.
Driving through Baton Rouge last Sunday, we passed through quiet areas of residential houses, trim and well-kept, until we turned onto our street. Immediately, for as far as we could see into the distance great piles of debris sat at the edge of each modest yard. Our house was the only one still untouched by the clean up crews, with no debris yet to see.
On this day, we were volunteering to help the efforts of NECHAMA - Jewish Response to Disaster, one of the very first volunteer coordinators on the scene after the recent flooding in Louisiana. We dug in to the project, carting out doors and cabinets and baseboards, ripping out the dry wall now starting to mold over in the humid conditions, and removing the nails left in the studs so that the contractors could get started with the rebuilding.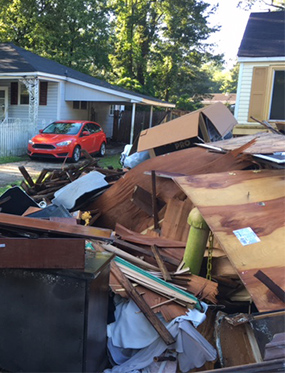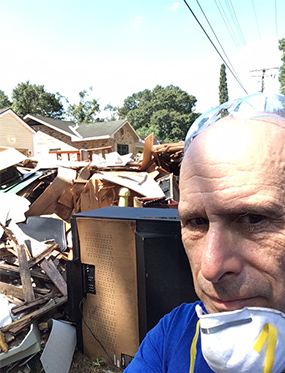 By the end of the day, a pile the width of the building lot and extending more than 6 feet high was the result of our efforts. No one knows when the city or FEMA might be coming through to cart off the garbage, but from the smell of it, sooner would be really nice!
There was a job for everyone, at their level of expertise. If you knew how to uninstall a toilet you could wield a wrench, if you liked smashing drywall, take a hammer, or you could join me carting bucket after bucket out the door, across the yard, and pushing it over the white picket fence.
We had a chance to talk with Ms. Chris the young homeowner who had saved for years to buy her frame house and who had moved in just three weeks before the flood with her young daughter.
While I was in Louisiana to help in some way the victims of Katrina, (yes, still after all these years work needs to be done), we quickly rearranged our schedule to go to Baton Rouge when we heard they could put us to work right away. Our trip was led by a group from the Jewish Federation of New Jersey which has gone to New Orleans twice a year for the last 10 years. I wanted to see with my own eyes what had been reported on the TV, and also I have always felt that the experience of helping, personally, is so much more gratifying than writing a check.
On this day we were joined by a crew of other Nechama volunteers who were staying in a local church, and included three separate thru-kayakers who had been paddling the length of the Mississippi River from Minnesota. When they heard the news of the destruction, they stopped to help to "give back some of the good will" that had been shown to them on their months-long trip. Our New Jersey/Cleveland group included 6 late baby-boomers and three of their teenagers taking off from school.
While I was the only Clevelander in our small group, many volunteers we met were from Ohio. One young graduate of the Laurel school came 8 years ago and now runs a recycling yard for building products, another had just spent 6 months helping at an orphanage in Kenya. It was so meaningful to see people from our community and from across the country coming together to help those in need.
For more information on how you can make a difference on an IMPACT! volunteer mission, please contact Susan Hyman at shyman@jcfcleve.org or 216-593-2887.
---
Related Items
---