03/22/2018
Clevelanders, Israelis Discuss the Role of Women in STEM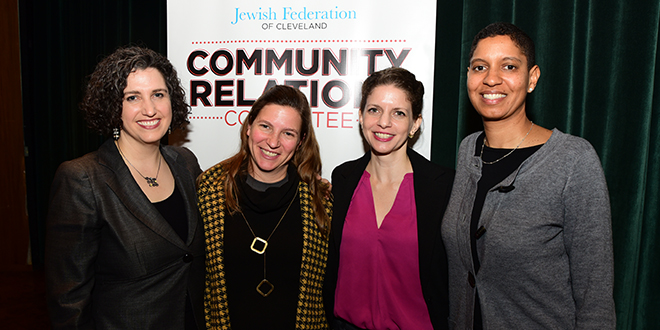 Uplifting, inspiring, engaging: community leaders, elected officials, and special guests from across our diverse city joined an esteemed panel to look at the role of women in STEM at the 71st Annual Meeting of the Community Relations Committee.
With women holding only 14% of engineering jobs and owning 5% of start-ups, this topic was especially timely. Our panelists addressed how women access STEM education and careers in the field: what are its barriers, what progress are we making, and what are our hopes for the future?
The Sidney Z. Vincent Memorial Lecture featured moderator Kirsten Ellenbogen, and panelists Me'lani Labat Joseph, Mor Karassin, and Noga Tal who said, "STEM education is very personal – it represents everyone's ability to share our future through technology and science. Women can help shape this narrative." All of our guests left feeling uplifted by the panelists' call to action: Make sure more women in STEM have a chance to succeed.
Thank you to our moderator and panelists, Event Co-Chairs Eti Ganin, Suellen Kadis, and Michele Weiss, and CRC Chair Bradley J. Schlang. And, thank you to everyone who joined us to be part of the conversation.
View all photos from the event >>
Share your feedback. Take a quick survey now >>
---
Related Items