01/30/2017
CMSD Features PEI in News Story!
Article reprinted with permission from Cleveland Metropolitan School District (CMSD) News Bureau.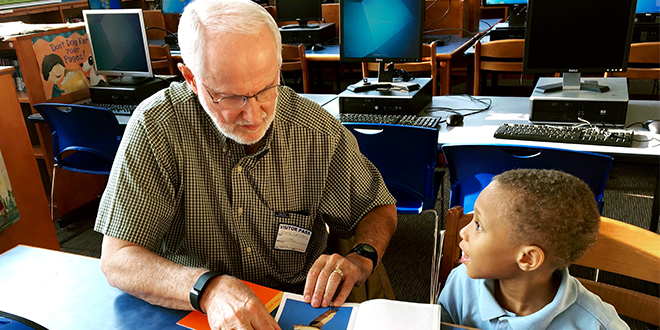 Churches and other faith-based organizations in Cleveland are taking an increasingly active role in supporting CMSD students, with more than a dozen of them offering tutoring services for over 30 schools.
Hundreds of students each week are getting one-on-one academic help either in school, after school or on weekends from religious groups that volunteer their time and resources. The results can be seen not only in improved academics but also in meaningful relationships that have developed between schools and faith-based organizations.
"We believe in the city of Cleveland, and where else do you start believing than with the children?" said Mary Soirefman, project coordinator for the outreach committee at the Church in the Circle.
Church in the Circle has had tutoring and other reading programs at Mary B. Martin School for three years. Their members spend time in both individual and group settings with students to promote literacy and help students who struggle with reading.
The one-on-one attention that tutors provide can also benefit students who are reading at or above their grade level. That's why some schools use tutors from churches and faith-based organizations for enrichment purposes. In fact, the Jewish Federation of Cleveland has an entire program devoted to just that.
The Federation's Public Education Initiative currently has tutors in six CMSD schools and two of the District's partner charter schools, focusing mostly on literacy enrichment.
The Federation has been in District schools since 1999, and the program now reaches about 300 CMSD students each year with its 200 volunteers. The volunteers are assigned one or two students, and meet with them once a week throughout the school year. The tutors split their time reading to students and having students read to them from books the Federation supplies. They also work on spelling, writing or drawing.
Along the way, the tutors nurture relationships with students.
Steve Levitan has been tutoring with the Federation for several years and has been working with a Miles Park second-grader for more than a year. Levitan, a retired chemist, said the student has improved by leaps and bounds since last year, when he struggled to read even two-letter words. Levitan said the student's face lights up when he walks into his classroom each week to take him to the library for tutoring.
"We've really progressed quite a bit since we first started last year, and that's why I wanted to work with him again," Levitan said. "First of all, because he's a lovely child and I really enjoy working with him, and I wanted to continue with him and take him as far as I'm able to take him."
In his tutoring sessions, Levitan uses handmade flashcards that he creates and customizes based on the student's needs.
"One of the most important things that we can teach children is to become a competent reader," Levitan said. "And if they can become a competent reader, there may be no limit to what these kids can do."
Miles Park Principal Tamika Taylor-Ivory said the Federation volunteers, as well as tutors from Triumph Church and St. Paul's Episcopal Church, have a noticeable impact on her students.
Surveys showed that students felt safer and more supported after spending time with the tutors. Taylor-Ivory saw improved attendance and said parents have transferred their children to Miles Park because of the tutoring opportunities.
And in a building where the average class size is 25, the one-on-one pairings allow students to have individualized lessons without any distractions.
"I appreciate having tutors, but I need to have the right tutors. For this program, we fit, because they know what my expectations are," Taylor-Ivory said. "They're not just picking books at random for the kids to work on."
On the other side of town, tutors from the faith-based Scranton Road Ministries Community Development Corporation approach their tutoring responsibilities from a holistic perspective. Their volunteers tutor students at Scranton twice a week, and Luis Muñoz Marin students four times each week.
Chad Abraham, who tutors student and directs an after-school enrichment program, graduated from James Ford Rhodes High School and grew up attending Scranton Road Bible Church. He said he tries to build trusting relationships with students while also helping them overcome academic struggles.
"I know for me, as a kid, if I was struggling in a class, it was probably related to something I was going through personally," Abraham said. "I had people in my life that I could talk to about it, but I don't know if the kids here always have that."
Abraham said he uses his own experiences growing up in the same neighborhood where he tutors to relate to students.
"Our main focus is to show them some type of hope, even in this neighborhood when it doesn't look like there is," Abraham said. "And along the day we do a lot of math and reading tutoring."
Other programs have deep roots in CMSD schools, including the Saturday tutoring program at the Church of the Covenant in University Circle. Linda Wilson was a teacher at John Hay High School when she and her colleagues launched the program in 1990.
Wilson has since retired but now coordinates the tutoring services, which have expanded to schools across Greater Cleveland. Students from about 15 CMSD schools currently get tutoring through Church of the Covenant, Wilson said.
As an educator, Wilson said she's seen children benefit from support that comes from people in their community.
"It's important for kids to know that there are other people in their corner in addition to their parents and teachers," Wilson said.
---
Related Items