01/12/2018
Coaching Circles Series III Launches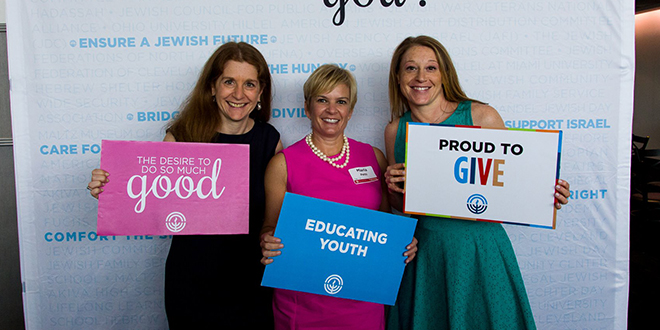 Three years ago, Women's Philanthropy launched Coaching Circles, a leadership development program aimed to offer women a supportive and motivating environment to connect through meaningful conversations and peer coaching. Coaching Circles was created to give participants an opportunity to work with seasoned lay leaders to help enhance leadership skills and talents. This program has already enabled 70 women to establish new relationships, learn skills related to leadership, develop in an area that is a current challenge related to a career or community volunteerism, and learn about the Jewish Federation.
Our third cohort launched just last month! Each "circle" can accommodate up to six participants and one mentor, once a month, for six months. Meetings include topics around building trust, leadership communication and its impact, asking tough questions, emotional self-awareness, and assessing, reflecting and prioritizing various aspects of life (e.g., family, community, work, religion, money, health, and personal growth). In addition to the assigned content, the peer coaching portion is historically encouraging and inspiring for many on a leadership track.
Coaching Circles was created in partnership with Jennifer Cohen, Women's Philanthropy's outgoing Leadership Development Chair, and Senior Vice President/Practice Lead of Leadership Development at Ratliff & Taylor. Jennifer's vision and professional skillset has enabled us to connect, grow, learn, and advance leadership related to a career, community volunteerism, or work/life balance, all to identify ways we can enhance our engagement and involvement – today and in the future.
Special thanks to our 2018 Coaching Circles mentors: Karen Baker, Mindy Davidson, Ilana Isakov Katz, Beth Kuhel, Elisabeth Sherman and Idelle Wolf.
Registration for the 2018 series is currently full. For more information or to be placed on the 2019 series wait-list, contact Lisa Hacker at lhacker@jcfcleve.org or 216-593-2792.
*The program is able to place up to 36 women who agree to commit a suggested minimum gift of $365 to the 2019 Campaign for Jewish Needs. Any applicant not placed in a Coaching Circle will be put on a wait list for the future.