04/27/2023
Community Pays Tribute to Fallen Soldiers, Terror Victims at Yom Hazikaron Event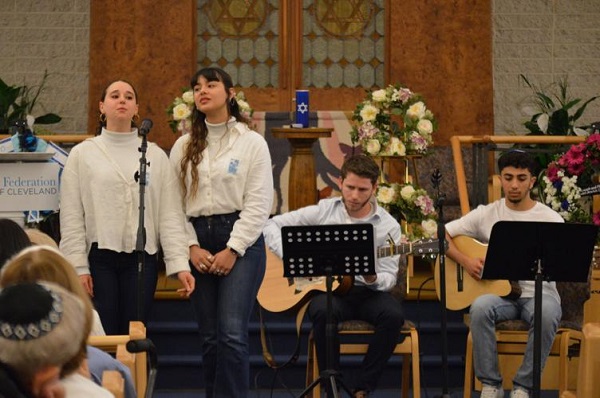 COURTNEY BYRNES
Article reprinted with permission from Cleveland Jewish News
Nearly 250 people filled the sanctuary of Congregation Shaarey Tikvah in Beachwood to remember Israel's fallen soldiers and terror victims on Yom Hazikaron.
The evening of April 24 was filled with song, prayers and stories of those lost while sharing the theme of brotherhood, or "ahva" in Hebrew. Presented by the Jewish Federation of Cleveland, the program was led by event co-chairs Michael Milgrom and Yael Herooty.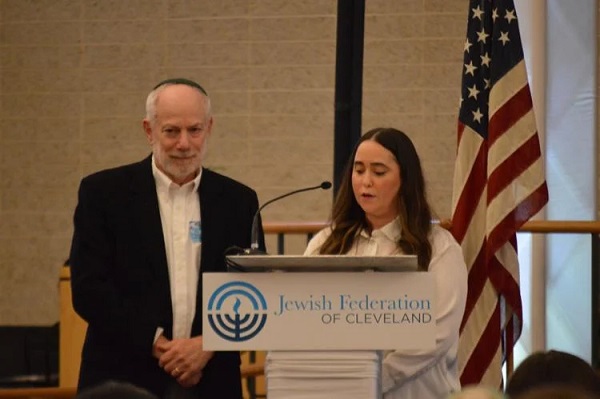 "While (ahva) literally translates as 'my brother,' it means so much more than that," Milgrom said. "It can be your brother, your best friend who you've known for years, or your taxi driver who you'll likely never see again."
The co-chairs explained the theme of brotherhood came after two sets of brothers lost their lives within a week of one another in terror attacks in Israel, followed a week later by a set of sisters and their mother.
"Ahva doesn't really translate well into English, but it is this feeling of brotherhood, unity and togetherness that connects us all and makes us one," said Herooty, who was raised in Omer, a suburb of Be'er Sheva in southern Israel. "So, when a brother or sister is lost, or sadly, three sets of siblings, everyone feels like they themselves have lost a sibling."
They shared stories of Israel's fallen soldiers and terror victims, and invited other speakers to do the same.
Community shaliach Itay Margalit spoke of an American that made aliyah and served in the Israel Defense Forces as a lone soldier. Despite dying in a foreign country away from his family, his funeral was attended by 20,000 Israelis.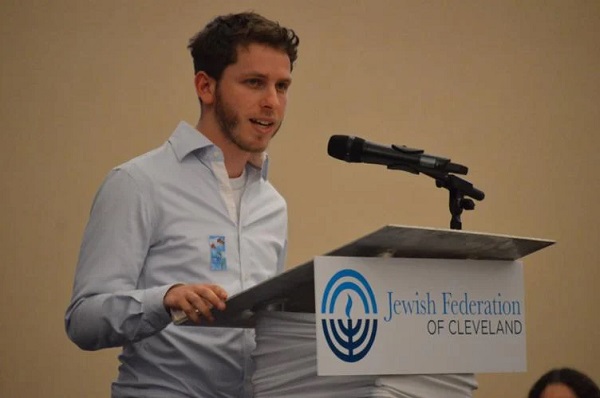 Shin shinim Gil Geva Keinan shared the story of her grandfather who was killed at the age of 29 after being double-crossed during a mission. He lives on within her and each of her family members, she said.
Margalit and Keinan also joined shin shinim Mical Ortman and Bnaya Michael Gavish Maor to lead in song.
Arie Teomi and Rabbi Scott Roland of Congregation Shaarey Tikvah led the Yizkor prayer in Hebrew and English. Deana Stein sang "The Star Spangled Banner."
Lynne Cohen and Jimmy Ratner, the Federation's Israel at 75 co-chairs, lit the memorial candle before the laying of the wreaths.
Ryan and Shlomit Haber placed the first wreath on behalf of Friends of the Israel Defense Forces Ohio chapter, followed by Nina Mayers and Gabi Kalir with the wreath for prisoners of war and those missing in action. Aviad and Tal Israeli, with their children Yoav, Yael-Lee and Noa, placed the wreath for those whose place of burial is unknown. And, Levi and Avigayil Halberstam placed the wreath in honor of victims of acts of terror.
Students from Gross Schechter Day School in Pepper Pike and the Joseph and Florence Mandel Jewish Day School in Beachwood also placed wreaths in honor of Yom Hazikaron.
In concluding the commemoration, Herooty said, "Israel is more than a nation, it's more than a country. It is what unites us whether you are living in Israel, Cleveland or anywhere else."