11/23/2015
Connecting with Cleveland's Slovenians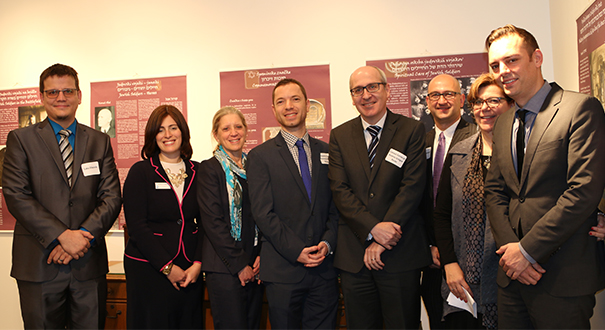 Inside a picturesque storefront in Cleveland's St. Clair neighborhood is the Slovenian Museum and Archives. Small in size, this museum – which is the only one of its kind in the United States – boasts many artifacts from the central European country.
Its most recent exhibit, "Forgive Us, Forgive Us, Oh You, the Dead," is dedicated to the Jewish soldiers in the Austro-Hungarian army who fell on the Isonzo Front of WWI in the territory of present-day Slovenia.
And on a brisk November day, the Jewish Federation of Cleveland's Community Relations Committee, the American Jewish Committee (AJC), and Cleveland's Slovenian community (the largest Slovenian community outside of Slovenia resides in right here in Cleveland) gathered at the museum to celebrate their shared history. Joining these organizations were also City Councilmen Joe Cimperman, Jeffrey Johnson, and Michael D. Polensek. The communities' diplomats, Moran Birman, Deputy Consul General of Israel, and Andrej Gregor Rode, Consul General of Slovenia, both of whom are newly appointed, also had the chance to meet and connect.
"A museum such as this is not just for the Slovenian community, but for all of us to enjoy," said Birman. "This is how we start to build our communities together."
The small museum buzzed with energy, as mingling began with community members and elected officials. According to Rode, the exhibit is a call for justice.
"We have to use this exhibit to show our next generation how to overcome prejudice and stereotypes in our society," he said.
This program is a result of the Federation's ongoing relationship with the greater Cleveland community. For many years, the Federation's volunteer mentoring program, Public Education Initiative (PEI), has been serving the needs of children throughout the Cleveland Metropolitan School District (CMSD), including Case Elementary in the St. Clair neighborhood. In 2014, the Federation in collaboration with CMSD, The Rainey Institute, and United Way of Greater Cleveland launched Wraparound Services Initiative at Case Elementary, which provides students with academic support, enrichment programming, health services, and more. Most recently, the Federation's Overseas Connections Committee has been working with the St. Clair Superior Development Corporation to share successful community development models from Israel for possible use in Cleveland.
Home to one of Cleveland's most diverse populations, the St. Clair neighborhood is an appropriate setting for connecting with Cleveland's Slovenian community.
"[Being in this neighborhood] makes these discussions around diversity all the more important," said Michael Fleming, Executive Director of the St. Clair Superior Development Corporation. "This is how we can learn from one another."
---
Related Items