09/17/2015
Courage to Learn
Empowering Women through ISHA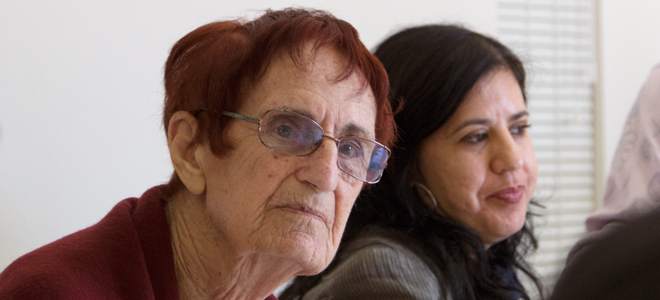 by Ilanit Gerblich Kalir, Managing Director, International Operations
"Today I have courage," Sima Goldrich told me. She is an ultra-Orthodox (haaredi) woman who is learning about women's health – her own health – through a program funded by the Jewish Federation of Cleveland's Campaign for Jewish Needs. "I have self-confidence and it's because of what I have learned here," she said.
Sima is taking part in a life-changing experience. She is learning about her body, her health, and how to take care of herself so she can be a better caretaker and advocate for women's health. She is doing this through Israel Health Advancement for Women (ISHA), which aims to increase the number of Israeli women accessing health care.
In just 10 years, over 300,000 Israeli secular, religious, Arab and ultra-Orthodox women have benefited from The Federation's ISHA project. This is Sima's story…
I met Sima in July during a visit to Israel. She lives in Jerusalem with her husband and together they have 11 children ranging from ages 8 to 26. She works as a beautician serving the elderly.
In her spare time, she is a participant in ISHA's year-long training program, learning to be a community advocate and ambassador for women's health. At first she was hesitant to participate but now, as she sits in training with 24 other ultra-Orthodox women, she is eager to share what she is learning.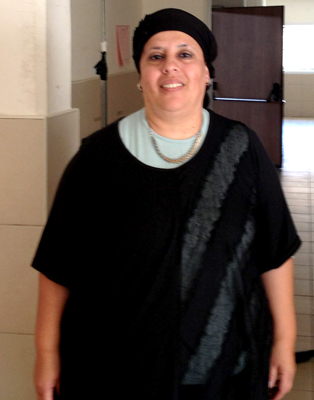 Sima explained to me that many ultra-Orthodox women in Israel face a range of health issues including heart disease, obesity and breast cancer. "Many of my friends do not go to exams regularly, do not get mammograms, or eat nutritious foods," she said. And, she wants to do something about that – because it changes and saves women's lives. "I have a plan to gather my friends and family for a few sessions in the evening, so that they too will feel as empowered and educated about their health," she said.
On the day I observed the course, one of the participants shared a personal story. She said that she did a self-exam and discovered a lump. She scheduled a mammogram and learned that it was benign. She felt relief and gratefulness. If not for ISHA, she wouldn't have known to do a self-exam or have the courage to schedule a mammogram. She wouldn't have known if she had cancer or not. She just wouldn't have known…
It seems hard to imagine to me, to us. But many ultra-Orthodox women do not go to mammograms regularly because they are afraid a man will conduct the test, or they are nervous to find out that they have cancer, which would hurt their child's chance of finding a good spouse. Thus, too many women discover they have cancer at a late stage, making treatment more difficult.
"Many taboo subjects are discussed," said Sima. "We talk about everything from getting regular check-ups at the doctor to issues of domestic violence. I have learned about nutrition and eating healthier and have already changed the way I cook at home. I use more olive oil and we eat more vegetables. I am determined to teach others."
It was powerful to see firsthand how women are coming together to learn new information that is changing their lives and the lives of others. Sima said that each week another woman speaks out and shares her story of how ISHA is changing her life.
They all asked me, "Is there going to be another course? I have friends who would love to participate."
I hope that through ISHA this course will be around next year and the year after that – because there are so many women who need us now and will need us in the future. We must take care of one another. We are each other's sisters, mothers, daughters, and friends.
Sima's story is made possible because of generous donors like you. Please join us, as we aspire to leave no community member behind, in Cleveland, Israel, and 70 countries around the globe. Donate today.
---
Related Items