11/14/2014
Creative Arts Contest: Entries Sought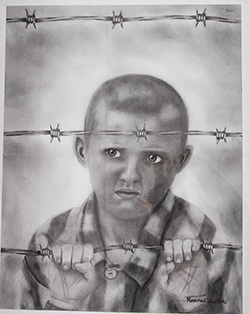 News Release
Date: November 13, 2014
Media Contact: Rebecca Stolarsky, O: 216-593-2877, E: rstolarsky@jcfcleve.org
Jewish Federation of Cleveland Announces Creative Arts Contest
Cash award and publication for winners; contest open to middle and high school students
CLEVELAND – Creative writers, artists, and filmmakers from Cleveland area middle and high schools are invited to enter the 2015 annual Yom Hashoah V'Hagvurah (Cleveland's commemoration of the Holocaust and heroism) Creative Arts Contest. Essays, works of art, and films are sought that portray this year's theme, "70th Anniversary of the Liberation: Keeping the Memory Alive."
"This is a wonderful opportunity for students to consider the lessons of the Holocaust from a unique perspective and to creatively interpret that point of view through writing, art and film," said Richard Rakos, Creative Arts Committee Co-Chair.
Entries will be judged on interpretation of the theme, originality and technique. Cash prizes totaling $3,150 will be awarded and the winning entries may be published in the Cleveland Jewish News. Winners and their schools will be recognized at the Yom Hashoah Commemoration on April 15, 2015 at Green Road Synagogue, 2437 S. Green Road, Beachwood.
The Yom Hashoah Creative Arts Contest and the Annual Yom Hashoah Event are sponsored by the Jewish Federation of Cleveland and the Kol Israel Foundation.
Deadline for entries is February 6, 2015.
Entry Forms are available here.
For more information, contact Debbie Klein at the Federation at 216-593-2834.