06/11/2020
'Crip Camp: A Disability Revolution' Panel Discussion Shines Light on Film, Disability Advocacy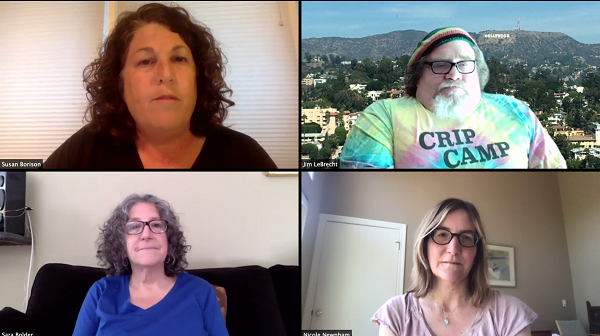 Article reprinted with permission from Cleveland Jewish News
by MCKENNA CORSON | STAFF REPORTER
Following encouraged viewing of "Crip Camp: A Disability Revolution," the newly released 1971-era documentary showcasing a New York summer camp for free spirited, disabled teenagers and their fight for disability rights and accessibility legislation, Clevelanders turned off Netflix for an in-depth look inside the film without leaving the couch.
The Jewish Federation of Cleveland's Women IN Philanthropy brought together the documentary's brainpower for a virtual panel discussion June 4 featuring writer, director and producer Jim LeBrecht, producer Sara Bolder, and director and producer Nicole Newnham.
Guided by moderator and Federation trustee Susan R. Borison, the panel explored topics like LeBrecht's desire to create a film he felt represented people like him with disabilities, Newnham's idea to reshape the film with LeBrecht's voice and Bolder's advice for making communities more accessible to disabled individuals.
LeBrecht, who has spina bifida, said he always knew he wanted to make a documentary about disabilities before deciding on "Crip Camp's" story with long-time collaborator Newnham.
"I started getting more and more just politically riled up in regards to not seeing the representation or the stories around disabilities that I felt we really needed to see," LeBrecht said. "When you live under the stigma that people with disabilities live under, that translates to high unemployment and being treated by society as being disposable. (But) I saw the power of documentary film. That's been my goal for a long time."
He told Newnham he always wanted to see a documentary about his summer camp, especially after remembering "hippie videographers" filming at Camp Jened during one of his summers there.
"There was this story that I thought might be lost to history," LeBrecht said. "It started off with this group of people from New York who I had gone to summer camp with heading out to Berkeley, Calif., in the mid-'70s. I knew there was some kind of connection there that was important."
Newnham was on board and she set off to get the vintage footage. She was also set on making the film special to LeBrecht, wanting to change his initial idea, as he asked her to be the director of the film that he originally wanted to co-produce.
"There's no way that I could direct this story with Jim in it and it would be as special as if Jim was telling this story in his own words, in his own way," Newnham said.
Newnham created the idea of a hybrid between a personal documentary via LeBrecht, and a historical documentary they would co-direct.
LeBrecht knew the title of the documentary would have to be edgy while also making waves for disabled advocacy. After working with Netflix and adding the addition of the subtitle, all parties were happy.
"When we came up with the title, we knew we had something that was going to spark controversy," LeBrecht said. "The interest behind using ("crip") was really trying to reclaim it. One day years ago, (someone who's in the film) asked me, 'Did you go to crip camp?' It's short hand, but it's also how you identify politically and socially as someone with a disability."
Following the discussion, Jewish Family Service Association of Cleveland's Horvitz YouthAbility program members and Debbie Chickering, the executive director of JFSA's Achieving Potential, spoke about the ways the disability rights movement impacted them and how they continue to push for advocacy.
Bolder stressed those listening think about the accessibility of their community and make adjustments for those who can't get around as easily.
"Look within your own Jewish community, too," Bolder said. "Is the bima at your shul wheelchair accessible? Can your Hebrew school accommodate a blind or deaf student? What about your summer camps? Don't wait for a person with a disability to show up who needs accommodations – just do it."