08/25/2021
D.C. Conference Pushes Clevelanders To Localize Antisemitism Fight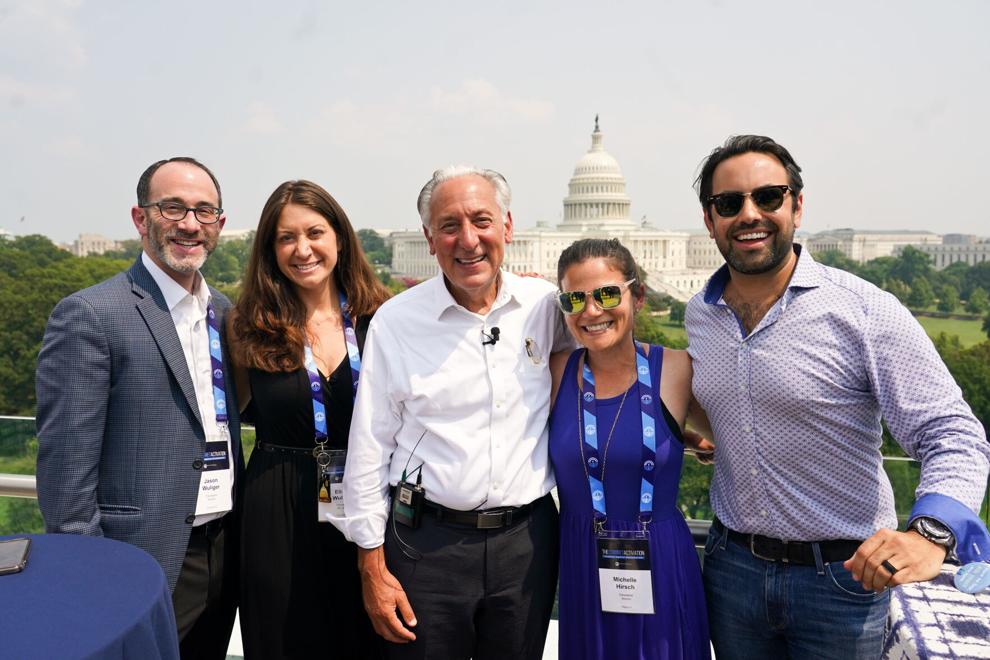 McKENNA CORSON | STAFF REPORTER
Article reprinted with permission from Cleveland Jewish News
Four Clevelanders from the Jewish Federations of North America's National Young Leadership Cabinet attended a daylong program of lectures and panel discussions targeting antisemitism and solutions to slow its rising growth July 20 in Washington, D.C.
Of the 250 members in attendance from JFNA's young leadership development, connection and education program, representing Cleveland were alumni cabinet members Michelle Hirsch and Jason Wuliger, and current cabinet members Elissa Wuliger and Adam Jacobs.
The event, named "The Cabinet Activation: Together Against Antisemitism," featured notable panelists and speakers from positions in government and Jewish organizations. Participants heard personal stories of antisemitism, tackled antisemitism in younger populations, spoke with congress members, unpacked government's role in confronting antisemitism and discovered ways antisemitism lives in media and social media.
For Hirsch, it was a no-brainer to make the trek to D.C. and take part in a conversation she said she believes to be vital for the world. She referred to the meeting of minds as "just the beginning of fighting the fight against antisemitism."
"You have to not just talk the talk, but you have to walk the walk," Hirsch said. "Meeting with other like-minded leaders in our nation's capital and hearing from top-level speakers on how to fight antisemitism, there was no way I wasn't going."
Elissa Wuliger shared Hirsch's belief in attending, adding that as trends of antisemitism continue to rise, so does her fear of the hate's darkening shadow.
"We've been fighting antisemitism since the beginning of time, and this is the most widespread and the most threatening it's been in my lifetime," Wuliger said. "After how much my family and so many others have lost just as a result of hate, (The Cabinet Activation) is exactly where I wanted to be."
Those present in the panel discussions crossed a range of ages and backgrounds. It included young poet Tova Ricardo; Melissa Rogers, the executive director of the White House Office of Faith-Based and Neighborhood Partnerships; Adam Teitelbaum, the executive director of JFNA's Israel Action Network, Julia Jassey, the founder and CEO of Jewish On Campus, Ohio Reps. Troy Balderson, R-Worthington, and Bill Johnson, R-Marietta; Nevada Sen. Jacky Rosen, the co-chair of Senate Bipartisan Task Force for Combating Antisemitism; and David Yarus, the founder of JSwipe and mllnnl.
Former Clevelander Eric Fingerhut, the president and CEO of JFNA, concluded the day with a call to action. Fingerhut testified Aug. 3 before the U.S. Senate Committee on Homeland Security and Governmental Affairs seeking increased security funding in 2022, and other safeguards for places of worship.
To Jacobs, the event stood as "a stepping stone" for Federations to start working together against antisemitism following over a year of COVID-19-caused lockdowns.
"When you get 250 people from across the country together during COVID to say this is something really meaningful and needing attention, it makes more of an impact than just sending an email or writing a tweet," Jacobs said. "One of the most important things is just your presence, especially when you're trying to show government leaders and politicians that they need to become more aware of something."
With their minds full to the brim with ideas, the Cleveland delegates met with different members of the Jewish Federation of Cleveland to discuss how they could bring the ideas from the conference room to the streets of Cleveland. The group debated different aspects of next steps, like what type of dialogue should be started, how to work with the local Jewish community and how to bring more people into the conversation.
At the core of the Clevelanders' ideas were ways to increase opportunities for education, grow partnerships between other communities facing similar issues and combating misinformation spread online, Hirsch said.
"We have to speak out," Hirsch said. "We have to share knowledgeable and factual information. And we have to stand up against what's going on out there, because if we don't, who will?"
While specific programs or community-wide discussion will be devised a part of an ongoing conversation, Jason Wuliger told the community to stay tuned.
"The passion of the group for tackling this problem was an incredibly hopeful sign that we are going to deal with this in an effective way," he said. "The Cleveland Federation has always been a leader and at the forefront of all kinds of programs, and I expect that that will continue here."