12/03/2021
Director Wain Shares Camp Wise Inspiration Behind 'Wet Hot American Summer'
ALEX KRUTCHIK | STAFF REPORTER
Article reprinted with permission from Cleveland Jewish News
Greater Cleveland is home to several people who played a role in creating some of Hollywood's most iconic television shows and movies, among them David Wain, the co-director of six feature films.
Wain's credits include "Role Models," "Wanderlust," and "Wet Hot American Summer." He spoke to close to 400 people virtually during Gathering for Good, a program presented by the Jewish Federation of Cleveland Dec. 1.
Wain, along with his sister, Beth Wain Brandon, spoke about his upbringing in their Jewish household in Shaker Heights and the influence his childhood experiences played in the movies he wrote and directed.
Wain went to Park Day Camp, Park Synagogue's religious school, as well as summer camp at Camp Wise in Claridon Township and Camp Modin in Belgrade, Maine.
Camp Wise, Wain said, had some influence on "Wet Hot American Summer." When he and comedian, director and writer Michael Showalter, who wrote the script, Wain said they mined everything they could think of from their experiences from camp.
"We really went through everything that we could remember from camp because we wanted to make a show that was about what summer camp really is for us, not about what a camp movie is like," Wain said of the 2001 film and the Netflix show of the same name that followed.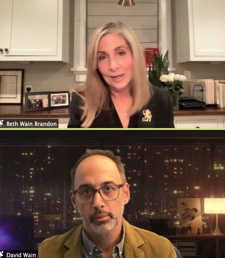 One of the nuggets from Camp Wise that was seen in the movie was the subplot of the NASA Skylab falling down to earth. Wain said this was based on how he and other campers at Camp Wise heard the news that there was a piece of Skylab that was going to fall out of the sky during the summer of 1979, while he was a camper there.
Wain's supporting character in that movie, Yaron, was based on Israeli counselors he had at Camp Modin.
But Wain is hardly the only person in show business to come out of Northeast Ohio. Growing up, he said he was "inseparable" from director, screenwriter and actor Stuart Blumberg and composer Craig Wedren. The trio went to University School, Camp Wise and Camp Modin together, while Wain and Wedren went to New York University together. To this day, Wain said Wedren has been the composer for nearly everything he's done in his career.
Blumberg and Wain have also stayed in touch and worked together on projects such as "Keeping the Faith," in which Wain had one speaking line.
Wain said the Cleveland filmmaker community still remains strong in both New York and Los Angeles.
"It's always been a place that everyone's proud to be from and excited to go back to," Wain said.
Growing up in Northeast Ohio, Wain was brought up in a Jewish household and community. He credits this to his father, Norman Wain, who was a Federation board of trustee emeritus and past campaign chair, as well as a past chair of the Cleveland Jewish Publication Company Board of Directors. Norman Wain passed away Oct. 10, 2020 at 92 years old.
"He set an example for our whole family to be heavily involved in so many community efforts in Cleveland," Wain said. "I got that through osmosis every day."
Through tears, Wain and Wain Brandon told the story of how their father moved from Brooklyn, N.Y. to Cleveland with only a small amount of money. Wain Brandon said their father was paid "so poorly" as a disc jockey in Cleveland, but he still found the Federation and gave them $10, which was all he could afford at the time.
Wain said their father sought out the services of Jewish Family Service Association at a time when he "was really down." JFSA was able to help him in "a small way", Wain said, but that was the seed for all of the success he had. Norman Wain then passed these successes down to his own children and his grandchildren, Wain said.
Wain said he has now had the blessing of being lucky to follow his creative path and live in New York and Los Angeles. He has been in California for about nine years now, raising his two sons there. He said he tries every day to instill in them the idea that they need to give to and care about the people around them
"What I learned from our dad, and from (Beth Wain Brandon) and from everyone is the notion that it can't be an afterthought," Wain said. "We have to really put time, priority and effort into helping those that are less fortunate, to try to build a better world. It takes work and it takes time."