09/02/2014
Donna Yanowitz to Receive the Kipnis-Wilson/Friedland Award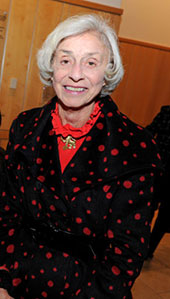 The Kipnis-Wilson/Friedland Award, a prestigious, internationally-recognized honor to a Lion of Judah,* is given to a woman who demonstrates the highest ideals of women's leadership and involvement. The award was established in recognition of Norma Kipnis-Wilson and Toby Friedland (z"l) co-founders of Jewish Federation of North America's Lion of Judah program.
Cleveland Women's Philanthropy Initiative (WPI) is delighted to honor the 2014 recipient, Donna Yanowitz. Donna, a Prime Minister's Council Lion, has been a Lion of Judah with the Jewish Federation of Cleveland for 42 years. As a former board member of our Women's Division, she remains committed to WPI. Donna is a past Ruby Lion co-chair and a member of the Silver Circle 50, and currently serves on the Federation's Board of Trustees. She has been a stalwart supporter of the Women's Campaign since 1956, soliciting hundreds of campaign prospects. Donna has been a recipient of the Ruby Bass Challenge Award in recognition of her lifelong passion for and commitment to Federation and the Women's Campaign. She has established a Lion of Judah Endowment to perpetuate her gift.
Donna has devoted her life to philanthropy and is an invaluable mentor to other leaders in the Cleveland Jewish community and beyond. She has served as a board member of Milestones Autism Organization, occupational therapy assistant volunteer with United Cerebral Palsy of Greater Cleveland and Menorah Park Center for Senior Living, chair of the Hebrew Garden at the Cleveland Cultural Gardens, vice president of education and chair of the thrift shop of the National Council of Jewish Women, Cleveland Section, and past board chair of the Cleveland College of Jewish Studies. Donna was formally recognized at the 2014 International Lion of Judah Conference held in New York City in September. And, Donna recently celebrated her 90th birthday. Mazel Tov on two wonderful milestones!
*Lions of Judah are women who make individual gifts of $5,000 or more to the Federation's annual Campaign for Jewish Needs.