12/03/2020
Early Agency Assistance Turns into 25 Years of Supporting Federation
SKYLAR DUBELKO | STAFF REPORTER
Article reprinted with permission from Cleveland Jewish News
About these stories:
The CJN is sharing stories about people who have been impacted by the Jewish Federation of Cleveland as the 2021 Campaign for Jewish Needs comes to a close at 7 p.m. Dec. 9. This year, every new or increased gift to the campaign garners a matching donation from the Jack, Joseph and Morton Mandel Foundation, known as the "Mandel Match," toward the Federation's Coronavirus Emergency Relief Fund, up to $1 million. To donate to the Campaign for Jewish Needs, visit campaignforjewishneeds.org
Martin Davidson knows loss. When he was 8, his 11-year-old brother died, and when he was 12, he lost his father too.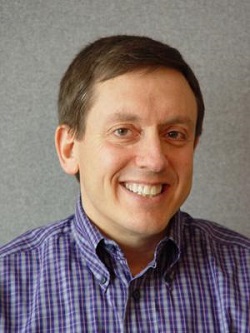 "It was the perfect storm for major family dysfunction, which did ensue," Davidson said.
After the death of his father, Davidson received counseling from Jewish Family Service Association of Cleveland.
Later, as a teenager, Davidson was moved into a group home supported by the Jewish Federation of Cleveland in Beachwood.
"At first, it was strange, because obviously I had never lived anywhere besides my familial home, but I got used to it," Davidson said.
He described the house mother as a tough but compassionate woman and a great cook.
"She really understood her role and what the expectations were for her running the home," Davidson said. "A tough love environment is the best way to put it, but no negative memories – neutral memories."
Davidson lived in the group home located on Tullamore Road in Cleveland Heights for about a year before moving home to live with his mother.
"After I moved back into my house, it was still dysfunctional, but I was older and better able to navigate the waters, and I really wanted to kind of be close for my friends," Davidson said. "I was young, so that was a priority."
He continued to receive counseling from JFSA. Davidson said his older sister was also assisted by the nonprofit.
"She was probably much more of a victim of the dysfunction than I was," Davidson said.
He recalls her moving into Bellefaire JCB in University Heights as a teenager and living there for several years, "maybe longer."
"That was another component of the Federation that I wasn't directly involved in, but my family was a huge benefactor from," Davidson said.
He explained it wasn't until he met Mindy Shafran, who became his wife, that he started to give back to Jewish organizations that aided his family.
"Her parents were extremely involved at the time that I met her and she was following in her parents' footsteps and already was very involved in what was called the young leadership division, at the time, of the Federation," Davidson said. "Long story short, I got involved just by being around it – by being around people close to me that were involved – and I picked up on what it was about and got active at that time."
Davidson is now a Silver Circle donor, meaning he has made a gift to Federation's annual campaign for 25 years consecutive years or more. He said he does not have the words to describe what giving back means to him.
"Looking back on the days where we were recipients, my world was extremely upside down – it was very stressful," Davidson said. "We weren't at a point where we couldn't get food, but I do remember getting cheese from the government and all that. So being on the other side of the fence, so to speak, it's a great feeling to be able to do it."
Although he is glad to give back, Davidson said he is not one to look for accolades.
"Me giving back is enough, it's kind of like when you go to a restaurant and you have a server that takes good care of you, you leave them a huge tip, but you don't expect them to come running out to the parking lot to give you a big hug," Davidson said. "You just hope you made somebody's day, and I hope I help make peoples' lives."