02/22/2017
Easy Purim Costume Ideas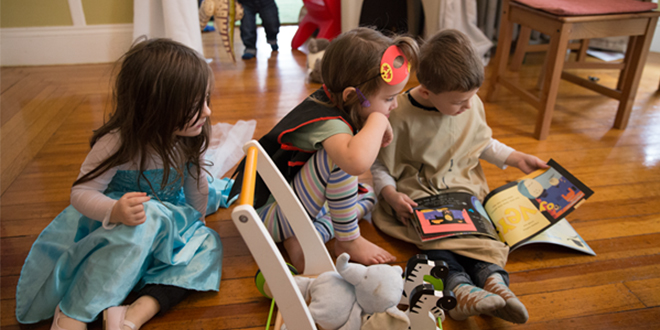 Republished with permission from PJ Library.
In some ways, Purim is one of the most kid-friendly holidays in the Jewish calendar. Traditions include making gift baskets of tasty goodies to share with friends, shaking groggers or noise makers, and participating in a costume parade. If your children want to dress up for Purim this year, here are a few simple, easy, costumes to create, inspired by PJ Library books! Each of these costs $20 or less to create and can be accomplished with no sewing whatsoever.
A Little Gefilte
5 Little Gefiltes by Dave Horowitz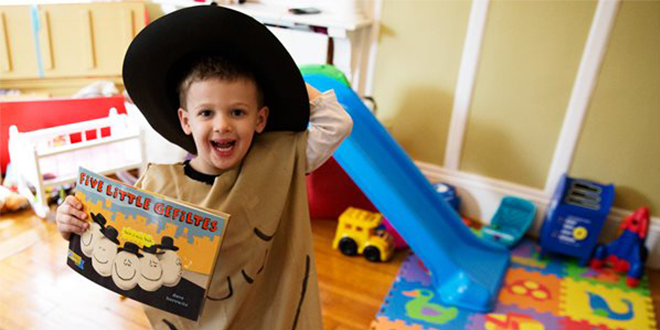 The reason we love this costume? It's the perfect, "oh no I forgot I had to make a costume, what the heck do I do?" creation. You'll need ten minutes and $2 to create the entire thing.
Supplies Needed
A brown or yellow pillow case
Black marker or fabric paint
Black hat
We got our pillow case and our hat at a dollar store, bringing the total cost of this costume to $2. To create it, all you have to do is draw a face on the front, then cut holes for your child's head as well as arm holes. We also opted to round out the corners of our pillow case using scissors and hot glue. If you're feeling fancy, you could also stuff the bottom of the costume and either pin or tape it shut.
Beautiful Yetta
Beautiful Yetta: The Yiddish Chicken by Daniel Pinkwater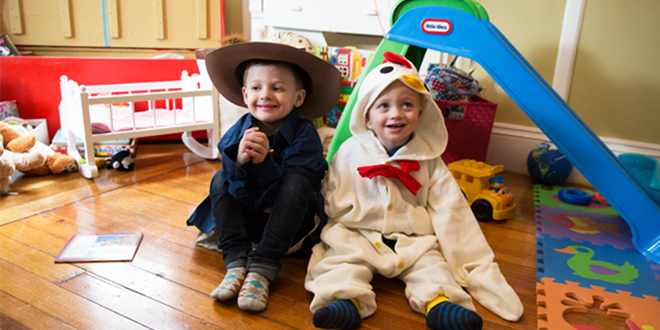 There are so many ways to create this costume-you can make use of a trendy kirugami (animal onesie), use some white footie pjs, or glue a boa or maribou trim, both available at any craft store, to a white sweatshirt to make the base of the costume. Be sure to brush up on your Yiddish for authenticity.
Supplies Needed
Chicken pajamas or white onesie
Red bow
Attach the red bow to the pjs using double stick garment tape or glue. Then put on and zip up. You're ready to go! If you really want to get fancy, you can also use face paint to create a beak, or wear a play one.
Jean Laffite
Jean Laffite: The Pirate Who Saved America by Susan Goldman Rubin
Who doesn't love pirate-stories? Kids of all ages--and, well, grownups too, can act out saving America as one of New Orleans' unofficial saints, Jean Laffitte.
Supplies Needed
A navy blue men's dress shirt
Red tie
Off white tshirt
Brown hat
Brown belt
Make a small cut in the neck of your tshirt and then glue down each piece of fabric to make a collar. Attach your red tie and then put on the dress shirt. Button only one of the middle buttons and wrap the brown belt around the shirt. Top everything off with a brown hat or cowboy hat and you're ready to go!
Ketzel and Moshe
Ketzel, the Cat Who Composed by Leslea Newman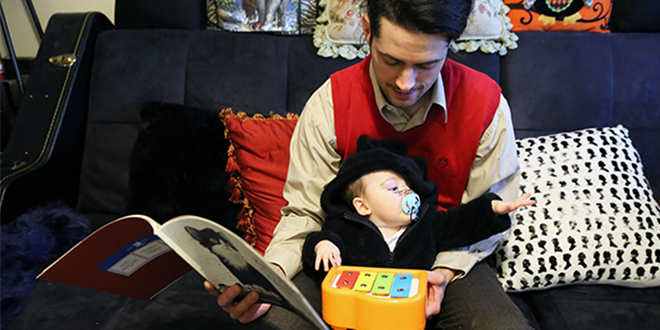 This is the only parent-child costume on our list. If you're celebrating Purim with a little one, this is a an excellent option as little Ketzel loves to be carried by Moshe in the story.
Supplies Needed
For Ketzel:
White onesie
Black coat with ears, or black hat with ears
Black pants
Optional: Face paint for whiskers
For Moshe:
Sweater vest
Dress pants
Collared shirt
Dress your baby in their onesie first, then add the black pants and the coat, or a black sweater and hat with ears. (Luckily, a shocking number of baby clothes come with ears already attached). For Moshe, mom and dad can dress up in his every day look or don a tuxedo. Facepaint whiskers are optional for your little Ketzel.
Supreme Court Justice Ruth Bader Ginsburg
I Dissent: Ruth Bader Ginsburg Makes Her Mark by Debbie Levy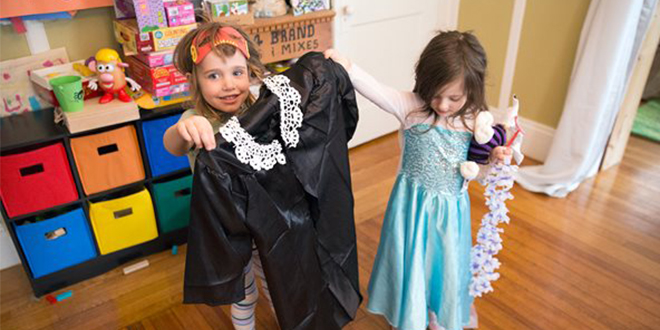 PJ families have been dressing like the "Notorious RBG" since the publication of I Dissent. There are many different ways to pull off this costume--just remember to nail the glasses.
Supplies Needed
Large sunglasses without lenses
Black robe or adult sized long sleeved tshirt
Lace doily
Optional: Copy of the constitution
To make the base of our costume, we found a "graduation robe" online for cheap. A local thrift store also had "wizard's robes" in the dress up section that would work too. If you don't have a robe, grab a long-sleeved adult-sized shirt and cut it up the middle to make your own robe. Trim the lace off the doily and attach it using craft or hot glue. Finish the costume off with the set of eyeglasses and you're ready to "disagree without being disagreeable."
Shmulik
Shmulik Paints the Town by Lisa Rose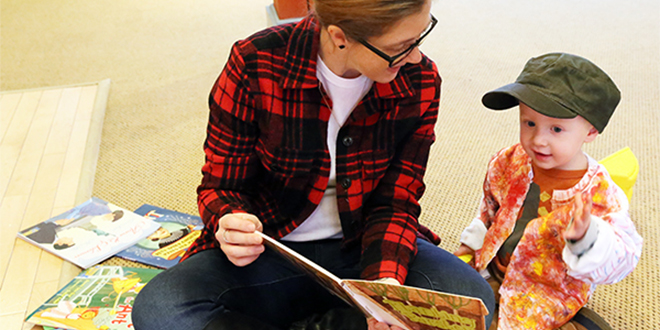 This is one of the most fun costumes for kids to "make" with you. We dressed up one of our stuffed animals as Ezra the dog, too. If your little one has a white stuffed dog, use an old argyle sock to make his sweater and toss a pair of Mr. Potatohead glasses on his face and voila, Ezra the dog.
Supplies Needed
An old white shirt
Paint and/or markers
A jeep cap or painter's hat
Optional: stuffed dog as Ezra
If your shirt isn't a button down, make a cut up the middle to turn it into a smock. Pull out your paints and let the little ones have at it! We used a combination of a wet sponge to dab paint all over the white shirt and some waterproof markers to let the kids draw. Our model got creative and also "remixed" his costume to be Shmulik in space. Hey, on Purim, anything goes - right?
Spock
Fascinating by Richard Michelson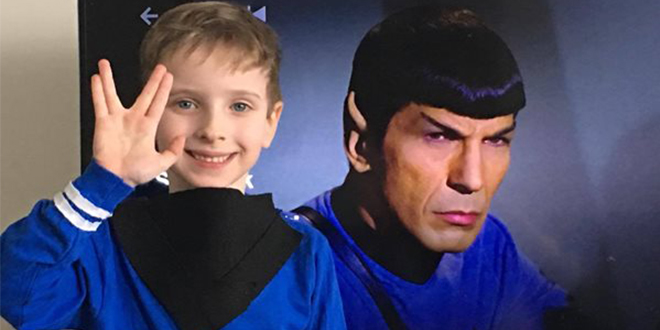 Live long and prosper in this homage to Leonard Nimoy and our favorite Vulcan. Take a shortcut and layer a v neck shirt over a turtleneck or use some glue and fabric paint to recreate the original Star Trek uniform.
Supplies Needed
Blue long sleeved shirt
Black turtleneck or felt
White fabric or fabric paint
Optional: elf ears
To start, add some white stripes to the sleeves of your blue shirt with either strips of fabric or some fabric paint. Print and trace the Star Trek insignia and glue it to the left side of the shirt. We edged ours in black sequins to make them pop, but you don't have to. If your blue shirt is not a v-neck, use a pair of scissors to reshape the neck hole with a few snips. If your shirt is a v-neck but you don't have a turtleneck, turn the shirt inside out and then glue a little bit of black felt so that it sits above the vee of the shirt, like a turtleneck. You're ready to explore the galaxy!
Zishe
Zishe the Strongman by Robert Rubinstein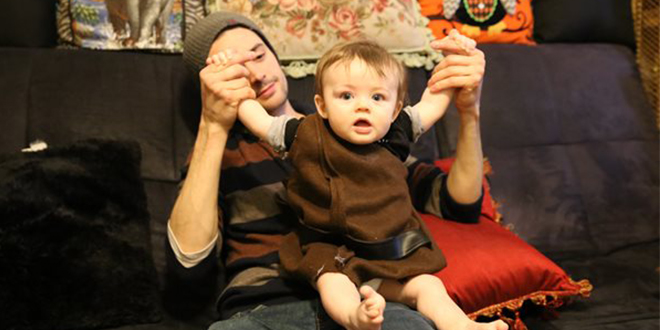 This may well be the easiest costume on the list. You need some brown scrap fabric and a black belt. You could also use an old brown tshirt too.
Supplies Needed
Brown fabric
Black belt
Optional: black boots or high top sneakers
Tie your brown fabric at the shoulder, then use a safety pin or double-stick garment tape, to close up the open side. Add a black belt and encourage your little one to flex their muscles.
More
Are you attending more than one Purim costume parade? You can easily "remix" some of the supplies above to create new costumes. You can also take some items that may already be in your closet to dress up as other PJ Library figures. Here are a few ideas:
If you have a little league uniform at home, or baseball-themed pjs, dress your child up as baseball legend Lipman Pike or Sandy Koufax. You'll need to add a mustache to complete your Lipman Pike look.
You can easily repurpose Jean Laffitte's hat to dress up as the Sundown Kid. You will also need suspenders and a red bandana.
Glue or stitch some patches on to an old coat in honor of My Grandfather's Coat or Joseph Had a Little Overcoat.
---
Related Items