05/04/2020
Enid Rosenberg to be Honored with Federation's Eisenman Award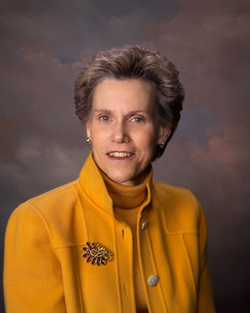 Article reprinted with permission from Cleveland Jewish News
by JANE KAUFMAN | STAFF REPORTER
Enid Rosenberg will receive the 2020 Charles Eisenman Award for Exceptional Civic Contributions given by the Jewish Federation of Cleveland at its 116th annual meeting May 14.
In response to the COVID-19 pandemic, the meeting will take place virtually.
"When I look at the list of past recipients of the Charles Eisenman Award, I think of Enid standing up there with all of them," said J. David Heller, board chairman of the Jewish Federation of Cleveland. "In Enid's philanthropic career she has held so many impressive leadership roles and has a tremendous passion for the community at-large, which is what this award is all about. Enid has such a big heart and cares about so many different aspects of our community and that comes through in her work. She is willing to roll up her sleeves and people want to be on Enid's team because her passion is so evident."
Heller described her as a problem solver and said she "embraces being a mentor to others in our community."
Rosenberg said she was speechless when she received Heller's telephone call.
"Eisenman is the pinnacle of being honored by the community," she said. "For me to have my name listed with the people that have done so much for our community in general, the region, is overwhelming to me. It's the epitome of being recognized for a lifetime of trying to do good. … This isn't all about me. This is about what we've done together."
A Pepper Pike resident, Rosenberg, 72, has held leadership roles at Jewish and community agencies and organizations. She has led many fundraising efforts and has been widely honored. She serves on the Federation's executive committee and has been a board member since 2006.
"I don't believe in processing things to death until nothing happens," Rosenberg said. "My life revolves around working with other people and working toward an end, an action, taking action."
She said she takes her values and her sense of purpose from Judaism.
"It is about the way we act as a Jewish people, not only a community, but a Jewish people," she said.
Among her leadership posts, Rosenberg has chaired the boards of Mandel JCC and Menorah Park, both in Beachwood, and was president of the former Oakwood Country Club in South Euclid.
She serves on the boards of UH Ahuja Medical Center in Beachwood, United Way of Greater Cleveland in Cleveland, the Mt. Sinai Health Care Foundation in Cleveland, College Now of Greater Cleveland in Cleveland and the Maltz Museum of Jewish Heritage in Beachwood. She is president of her Leadership Cleveland Class and active with the Cleveland Leadership Center in Cleveland. She has served as a board member of the Jewish Federations of North America and is a former member of the Cleveland Jewish Publication Company Board of Directors.
She has also been the chair of two levies and one bond Issue for the Orange City School District, where she served as a school board member.
She has been awarded the YWCA Women of Achievement Award, the Diversity Center of NEOhio Humanitarian Award, the Morton Mandel Leadership Award, she was named one of the Cleveland Jewish News' 18 Difference Makers. She has received the Gries Family Award for Leadership in the Jewish and General Communities from the Jewish Federation of Cleveland, the American Jewish Committee Outstanding Leadership Award, Menorah Park's Irving Stone Award and David Myers Award. She has been inducted into the Beachwood High School Gallery of Success as well.
Rosenberg grew up Beachwood and attended Park Synagogue in Cleveland Heights and Pepper Pike and has served as a trustee.
Rosenberg is married to Dr. David Rosenberg. The couple has two children, Erin McQuade and Justin Rosenberg, and four grandchildren.
If You Go
WHAT: Jewish Federation of Cleveland's 116th annual meeting, featuring remarks by J. David Heller, board chairman; presentation of Charles Eisenman Award for Exceptional Civic Contributions to Enid Rosenberg; and election of trustees
WHEN: 7 to 9 p.m. May 14
WHERE: Virtual
TO REGISTER: Visit jewishcleveland.org
Recent Charles Eisenman Award Winners
2019 Richard W. Pogue
2018 S. Lee Kohrman
2017 Michael Siegal
2016 The Rev. Dr. Otis Moss, Jr.
2015 Harley I. Gross
2013-14 Thomas W. Adler
2013-14 Greater Cleveland Food Bank
2012 Timothy and Sandy Wuliger
2011 Jerry Sue Thornton
2010 Miton and Tamar Maltz
2009 Sen. George Voinovich and Kol Israel Foundation
2008 Sally H. Wertheim