03/15/2019
Erika Rudin-Luria Discusses Safety, Security in New Era
Article reprinted with permission from Cleveland Jewish News
JANE KAUFMAN | STAFF REPORTER
Erika Rudin-Luria, president of the Jewish Federation of Cleveland, spoke of the fine line between providing effective security and making synagogues into fortresses.
About 55 people attended Rudin-Luria's talk March 10 at Temple Emanu El in Orange called, "Prevent, Prepare, Protect."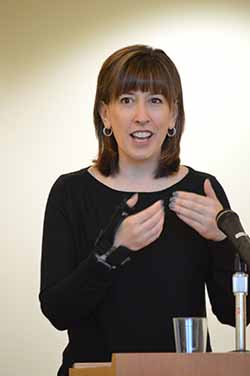 Rudin-Luria spoke of two recent trips to Pittsburgh, the first being the day after the Oct. 27 shootings at Tree of Life Synagogue.
"I went to show support at the community-wide vigil," she said. During her second visit, in November, she was invited to join a small group of national Jewish leaders to tour the interior of the building. She compared the experience to visiting Holocaust memorials with one critical difference: "This was in our backyard."
Rudin-Luria laid out three components of an effective security plan: access site control, training and additional armed, well trained guards.
The Federation, she said, expects to spend $3.3 million in the next fiscal year to enhance community security in the 43 buildings that contain Jewish institutions. This is approximately $2 million more than the community spent on security in 2018.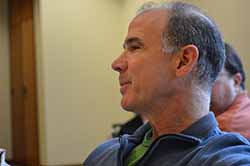 The Federation's security provider (JFC Security, LLC) works closely with the FBI, local law enforcement and the Secure Community Network. Secure Community Network, under the leadership of the Jewish Federations of North America and the Conference of Presidents of Major American Jewish Organizations, has been at the forefront of security involving Jewish institutions nationally.
She praised local law enforcement for responding so quickly and effectively to protect Greater Cleveland synagogues on Oct. 27, immediately after the Pittsburgh shootings.
During this informal discussion, Dave Sperling, executive vice president of Temple Emanu El, asked about profiling.
He said he was manning the temple door during services and an unfamiliar person came to the door. After he let the person in, he wondered whether he made the right decision.
Rudin-Luria responded that having a thoughtful plan on how access to your synagogue will be managed is critical to keeping congregants safe. She also noted it's equally important to build strong relationships throughout the broader community.
By continuing to reach and get to know each other, Rudin-Luria said we can replace blind hatred for an entire group of people.
---
Related Items